The most elephantastic picnic of the year…
This year in Helsinki won't be an exception as the summer will be thrilled by Elephantasy – Funky Family Picnic welcoming families and people of all ages and backgrounds to enjoy rhythm music, live and diverse urban culture, circus and world food on Saturday the 8th of July, 2023. Free entry, no age limit. The event is part of the Alppipuiston kesä summer event series.
One of the most idyllic havens of the capital, next to the Linnanmäki amusement park, Alppipuisto will be filled already for the 14th time with inspiring rhythm music, circus performances, acro yoga, various workshops, street food delicacies and an activities area dedicated to children. Bring your picnic blanket and the treats you want and join us to enjoy a memorable summer day and communal atmosphere, where color does not matter.
This year we have a completely new Sun Stage area with a live stage, deejays, workshops, park bazaar and other activities. The stage will be even powered by solar panels, which one of the leading solar energy experts of Finland, Mr. Janne Käpylehto, will provide for Elephantasy!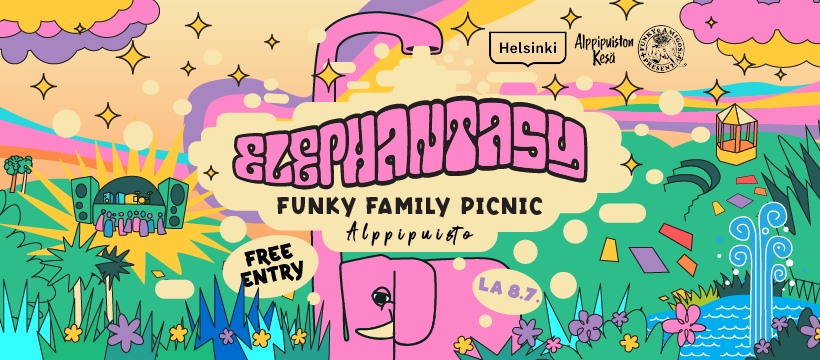 ELEPHANTASY – FUNKY FAMILY PICNIC 2023
SAT July 8th, 2023 @ Alppipuisto, Helsinki (address: Viipurinkatu–Tivolitie)
14-22 hs with Children's area open between 14-19 hs
Free entry, no age limit! Fully accessible.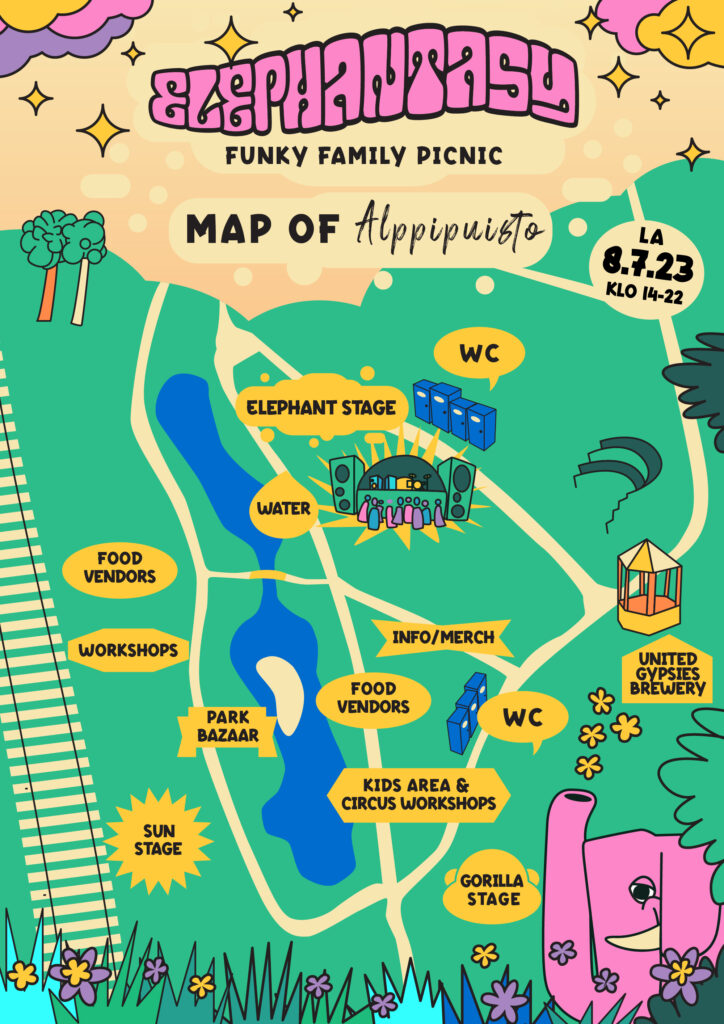 ---
Ne Galaktiset
Showtime: 20:30 hs / Elephant Stage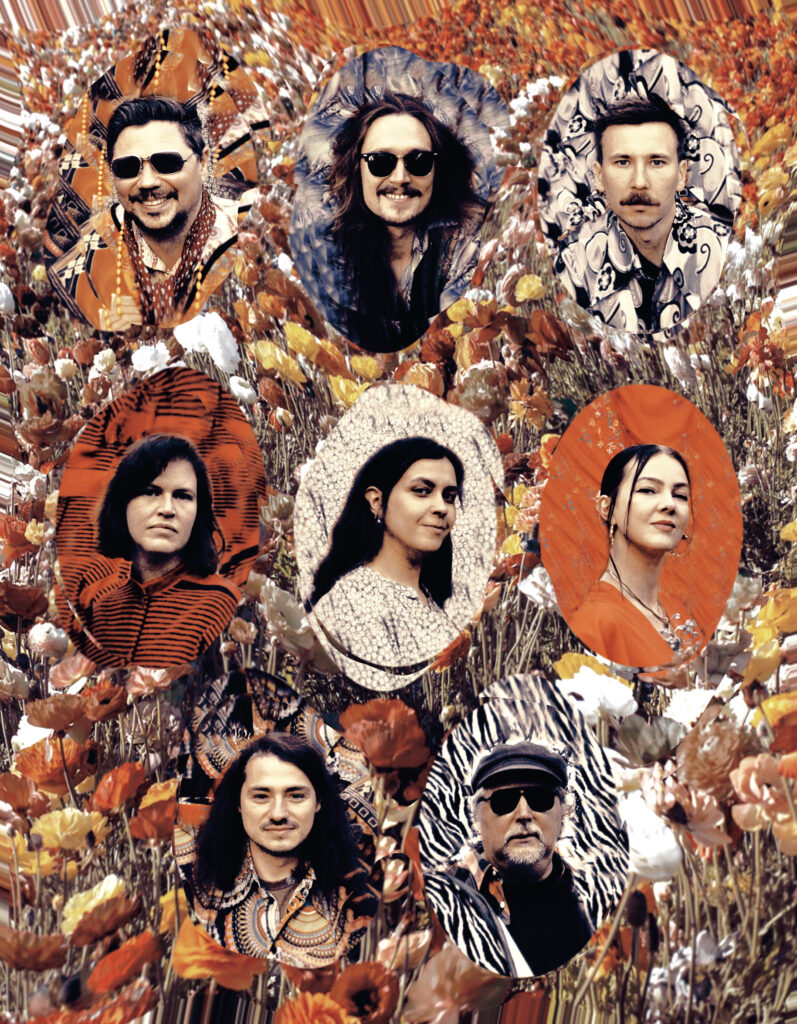 Ne Galaktiset is most likely the first musical group in the world dedicated to Finnish cumbia. The original inspiration for it blazed already years ago during a trip to South America with a rising urge to import the rhythmical and easygoing style of folk music, originally created in Colombia but also spread to all the countries in the district, to Finland with a local twist. In the 2000's, cumbia has also captured new and bigger audiences worldwide, first with more modern artists such as Bomba Estéreo and afterwards with more traditional acts, like Los Wembler's de Iquitos, who started already in the 1960's and have now conquered the world.
Ne Galaktiset, founded in 2017, is an eight-piece orchestra hailing from diverse backgrounds. They have been filling up dance floors and charming their audiences with their straight-forward and approachable style. Musically they combine Finnish schlager to the traditional cumbia sound along with a psychedelic twist. The vocalists of the group include American-Finnish singer Meri Griffin, who also plays the percussion instrument known as güira on stage, along with Jasmin Elena and Helmi Silvo. You can also enjoy for example the talents of Argentinian multi-instrumentalist Damian Mariotti and the legendary Hammond-organist Sami "Kanttori" Nieminen, who is well-known here for bringing the funky groove.
Finnish label Helmi Levyt, widely respected for their awesome cultural work, released the self-titled album of Ne Galaktiset in April. It has already been welcomed so warmly, that the band will be performing at the famous Flow Festival as well this summer. Expect to witness a wonderful soundscape bringing together South American rhythms, Finnish forest and passionate schlager. And most of all, prepare to dance! JK
Lineup:
Meri Griffin ‒ vocals | Helmi Silvo ‒ vocals | Jasmin Elena ‒ vocals | Damian Mariotti ‒ bass | Jesse Turunen ‒ guitar | Sami Nieminen ‒ Hammond organs | Aapo Watanen ‒ percussions | Jarkko Rantanen ‒ percussions
---
The Shameless Shongololo Band
Showtime: 18:15 hs / Elephant Stage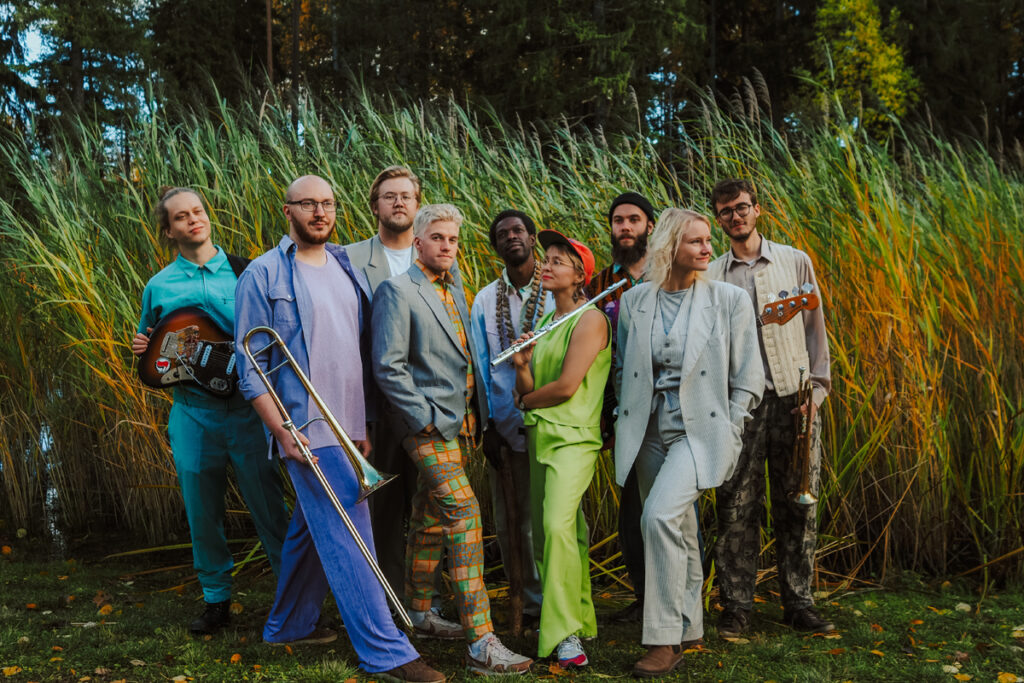 Finally in Alppipuisto!
For some years already, for a good reason we have tried to book Jyväskylä-based The Shameless Shongololo Band for Elephantasy, but every time with no success as they were not available on the specific date. However, this is not the story this year, so make sure you won't miss this chance to see them!
The Shameless Shongololo Band is a transcultural ensemble on a musical journey to the other side of the planet. Their music comes from the roots of Finnish-South African singer and flutist Ayla Brinkmann, but the backgrounds of the musicians also vary from Tanzania and USA to Finland. Their soulful rhythm music is inspired by artists such as Miriam Makeba, Letta Mbulu and Hugh Masekela, which already should give you a good clue of their sound.
The band performs their arrangements of South African classics such as "Oh Yeh Soweto" by Teaspoon & The Waves as well as their own material. Hopefully all this can be enjoyed on records soon as well! A few years ago they released a 7'' single with their fantastic version of Brenda Fassie's song "Vulindlela". Before we get more jewels into our hands, The Shameless Shongololo Band are at their best as a live band enthralling their audiences into ecstasy! And no wonder, as they have been performing a lot, some years ago also in Iceland.
The name of the orchestra comes from the word 'shongololo' in the Xhosa and Zulu languages. It refers to a millipede, the unstoppable shiny fellow who walks the earth with many many legs. That also perfectly describes the energetic atmosphere on the dance floor every time the band performs! JK
Lineup:
Ayla Brinkmann ‒ vocals & flute | Devina Boughton ‒ trumpet | Anna Voutilainen ‒ alto saxophone | Heikki Sillanpää ‒ trombone | Henry Lightfoot ‒ drums | Kasheshi Makena ‒ percussions | Severi Lehtimäki ‒ bass | Roope Strengell ‒ guitar | Miiro Kesti ‒ keys
---
Maajo
Showtime: 16:30 hs / Elephant Stage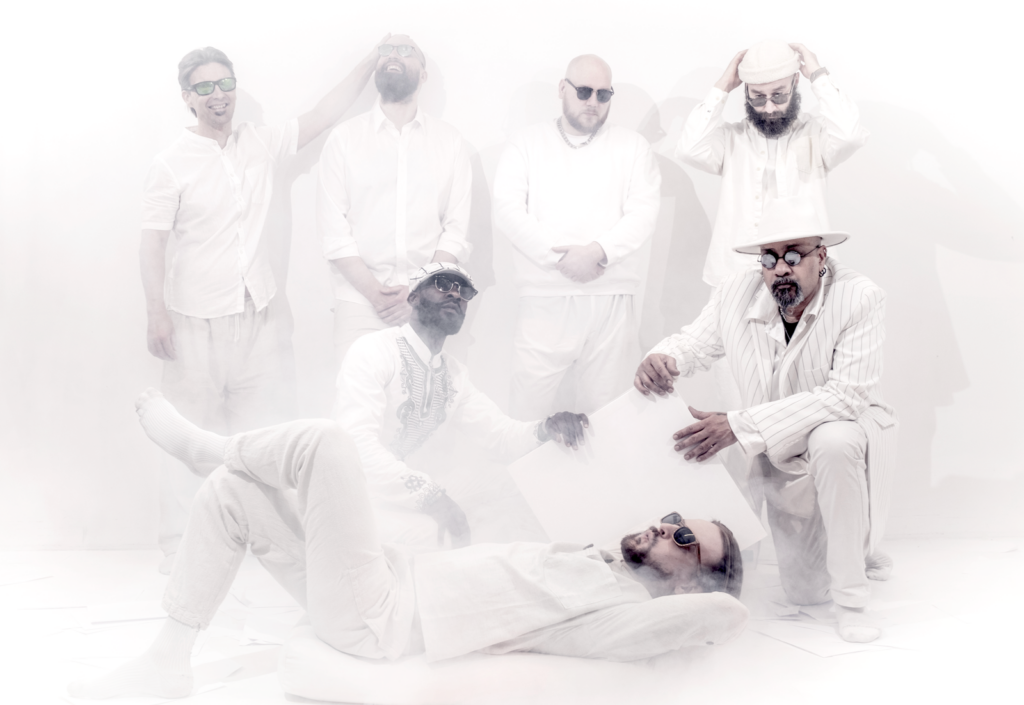 Maajo is a sonic, linguistic, and cultural melting pot that has come together in Tampere, Finland, like a tropical breeze from the cold north. Their musical explorations lead from equatorial soundscapes to the woods and moods of their native Scandinavia. African influences, electronic beats and organic rhythms, ethereality and the sounds of nature all make up the patchwork sound of Maajo. So prepare for something really special this year in the idyll of Alppipuisto!
Not only is Maajo's music a way of travelling to faraway places, the songs themselves have travelled all over the globe. Maajo has evolved from a sample-based electronic music project to a full-sized band, including African vocalists and musicians. The group has put out three full-length albums and three EP's on labels such as Brooklyn's Wonderwheel Recordings and London-Berliner Queen Nanny Records, in addition to a release on German label Permanent Vacation. Maajo has already received the remix treatment from artists such as Luke Vibert and Call Super, and has toured festivals and clubs internationally. The band has built a dedicated international following having been championed by the likes of Gilles Peterson (Worldwide FM), Tom Ravenscroft (BBC Radio 6), and Tim Sweeney (Beats In Space), while they've been featured by KEXP (Song of the Day), Resident Advisor, Ransom Note, and Pan-African Music.
During their years Maajo has grown from a sample-based project to a full-size band including vocalists and musicians of origins from different corners of Africa. The star of the live show has become the Zambian lead vocalist for the group, Waina, from Zambia. The core group is also gifted with the Mauritian dynamo Gilbert K on the drums and vocal duty. The core live band also features Tuomas Lammi (bass), Julius Alamäki (guitar), Mitja Virikko (samples & sequences) and the founding member Jon Thureson (keys and additional percussions). On their recordings, you can also enjoy their regular guest of honour, the Senegalese percussionist and singer Ismaila Sané, who has earlier brought his afrobeat groups Buddha Surfers and Saïsba to entertain the Elephantasy audience.
---
Dimjami
Showtime: 14:45 hs / Elephant Stage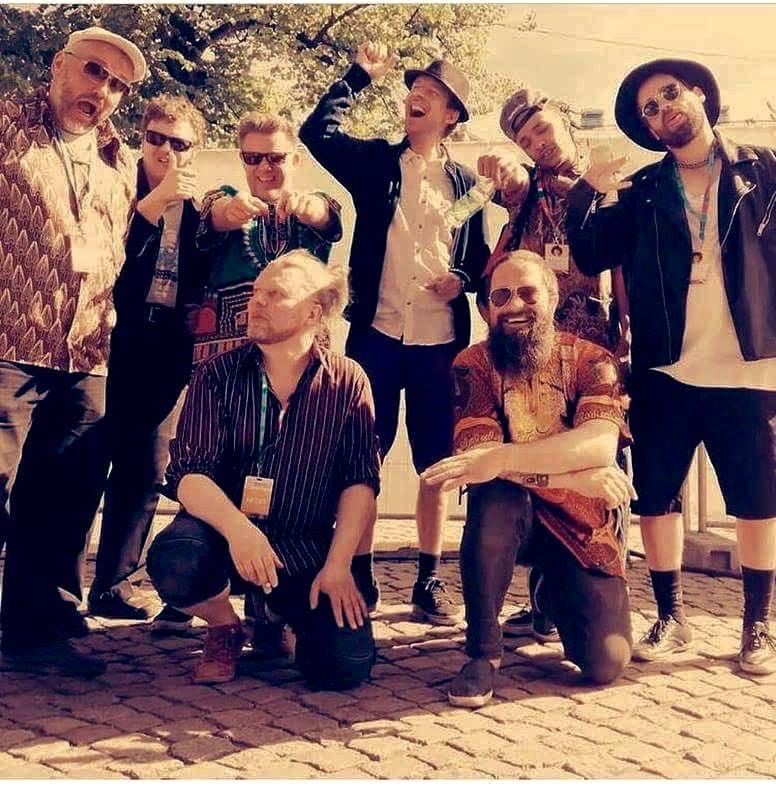 This year Elephantasy will be opened with something special as Helsinki-based Dimjami starts the main stage programme by celebrating the 10-year festivity of their career! The band has been cooking up their groovy, slightly acid jazz -spirited musical soup, spiced up with generous pinches of funk, rock, dub and latin influences, for a long time. Now you will hear the updated version of it in its most savory form, so make sure you make it early to Alppipuisto!
When Dimjami released their debut Album One in 2018, the vocals were laid by the local scene's underground legend Hossni Boudali. However, he has been now replaced in the recipe by two similarily compelling vocalists Lewis and the American-Finnish rapper Bentality, who has also been actively making a solo career in recent years (also at Elephantasy in 2022). The original experienced lineup (see below for details) has been likewise expanded with three virtuosos of the scene: trumpetist Antero Priha, organ wizard Kalle Salonen and percussionist Janne Auvinen.
On record, you could here all of them together for the first time on their single "We Gotta Move / High Frequency", which was released in the end of 2019. Since that we have been blessed with at least two more official releases "Hommat etenee" (2021) ja "Dark Clouds" (2022), so their full set is surely more than ready to funk you by now! JK
Lineup:
Bentality ‒ rap | Lewis ‒ rap, vocals | Joonas Pirttilä ‒ guitar | Tuomas Kirkkopelto ‒ bass | Niko Nurminen ‒ drums | Janne "Aukka" Auvinen ‒ percussions | Kalle Salonen ‒ keys | Antero Priha ‒ trumpet
---
Bárbaro el Urbano Vargas
Showtime: 19:30 hs / Sun Stage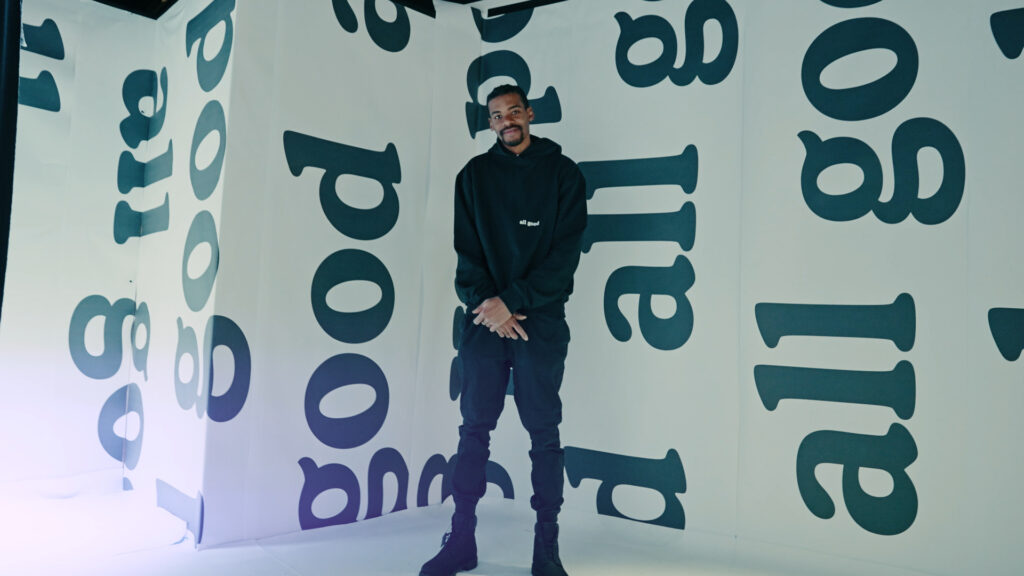 Born in Havana, Bárbaro el Urbano established himself more than 10 years ago as one of the best known rap artists hailing from Cuba. However, he had to pay a big price for it. After criticizing the government in his conscious and political lyrics he was placed on a black list and eventually had to move to Finland in 2016. Bárbaro has called his style as "combat rap" and described it as an existential threat to the Cuban government.
By now, he has enthralled numerous audiences with his dynamic performances all the way from Havana to Latin American and Paris. He also has five critically acclaimed albums under his belt as well as several cinematic music videos, which profoundly depict his personal life. The next full-length effort is scheduled for this summer.
The technically talented rapper, famous for his striking flow, has so far mainly focused on producing new material after relocating to Finland. However, you might still have seen him performing together with the American rap group Mobb Deep or with the local artists, such as Paleface or all good soundsystem. Bárbaro has earlier collaborated with many international artists, such as the bands Cimafunk and Los Van Van, the prestigious jazz singer Daymé Arocena as well as with countless Spanish speaking rappers all over the world.
Now you will have a brilliant opportunity to experience the respected and famous Cuban rapper live on stage in the atmospheric evening of Alppipuisto. Join the party and let Bárbaro show you what he's got! JK
Photo: Jeremy Kyejo
Videos: J-Ryder
---
Yavu
Showtime: 17:30 hs / Sun Stage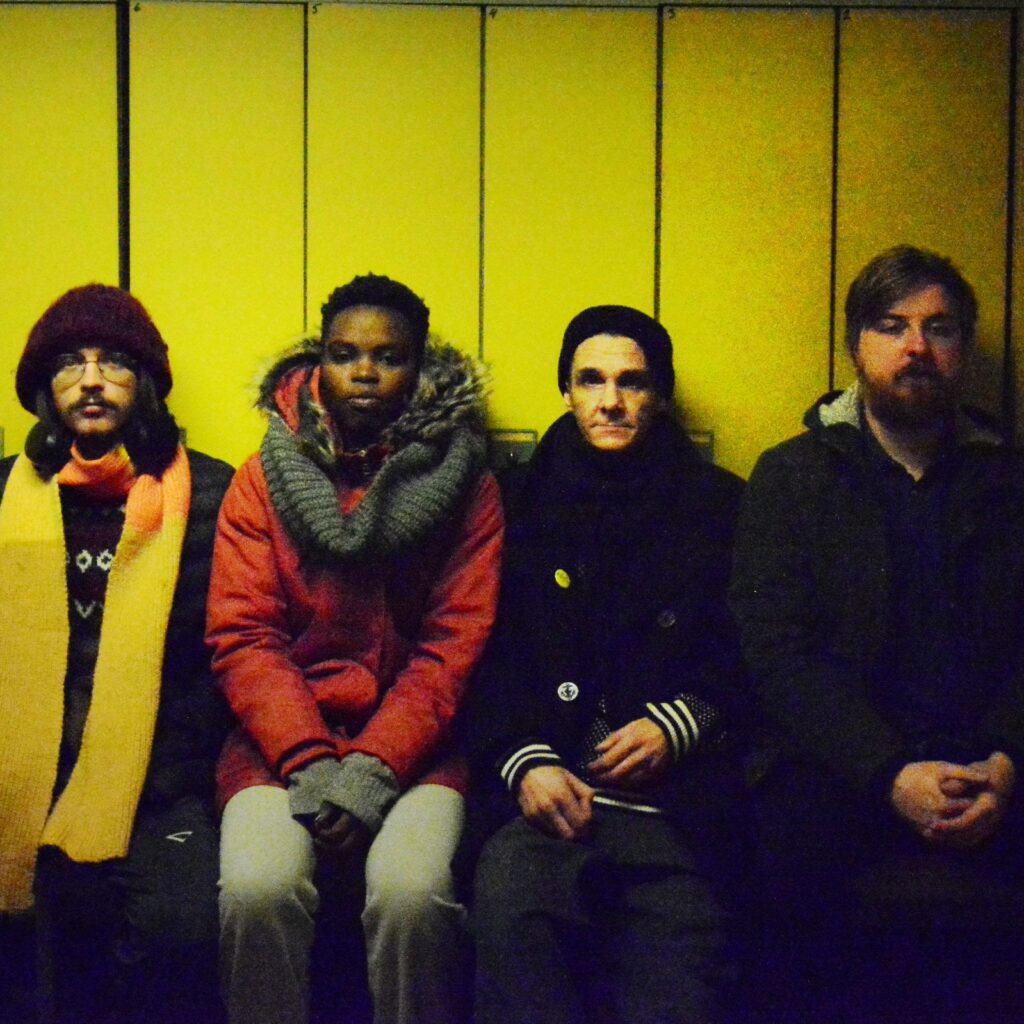 Elephantasy always presents fascinating and rising new artists of the scene. This year one of these is Pori-based Yavu, which is the multidimensional lineup of sensual and eclectic singer singer and guitarist Ondi Madete along with guitarist Valtteri Mäkitalo, bass player Kai Johansson and drummer Tatu Tyykilä, all three reputed musicians from Mama Longhorn who play their unique version of progressive Northern afrobeat. But in this case, it's something you could call Pori-Nairobi folk music fused with influences from afro sounds to hip hop, soul and rock.
You probably never heard of Yavu before, but they are all actually very experienced musicians. Mama Longhorn has established themselves well in the scene with their albums and live shows. Ondi Madete then again has also been performing all over in different places from Kenya and Uganda all the way to Italy and Finland, even sharing the stage with such artists as Nina Ogot and Alsarah & The Nubatones. She has also dropped two solo EP's earlier.
Yavu means jellyfish in swahili and like the zooplankton, which is a true animal wanderer, the band consists of four human animals exploring music by reacting reflexively to light, salinity, gravity, touch, and temperature. JK
---
Ohms
Showtime: 15:45 hs / Sun Stage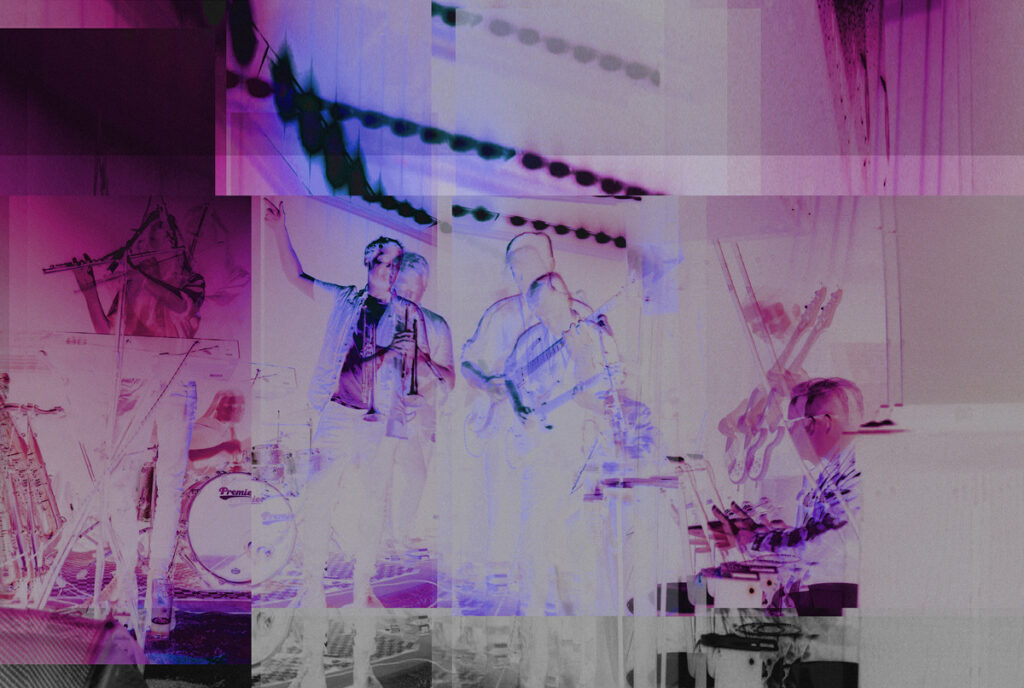 Ohms is an exciting up-and-coming act in the Finnish rhythm music scene. Playing a high–energy fusion of krautrock and terror jazz, they have actually been together in this form already since autumn 2019. The band follows the spirit of troglodytes with their approach, where they open-mindedly mix together and jam around with various influences from gospel and Japanese club jazz all the way to experimental rock, punk, Italian covers and the news program music of the 80's and 90's.
Besides guitar, bass, drums and percussions the instruments include a two-man horn section of saxophone and trumpet. This is not a surprise, because the most important thing for them is that the groove goes on and everyone is sweating! Expect an album release at some point in 2024. JK
---
Kraiden Live Band
Showtime: 14:15 hs / Sun Stage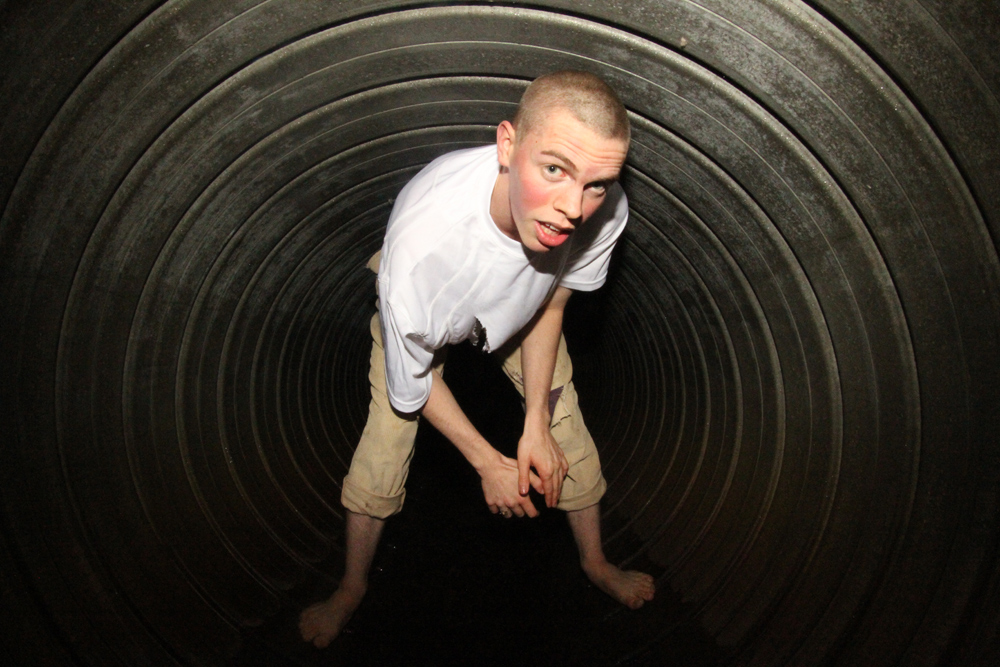 Straight outta the sewers of Myyrmäki, Kraiden Live Band fuses together jazz funk and rap with a prominent and easygoing touch, which is more than interesting in the times when trap and autotune have completely taken over the Finnrap scene. The young collective, who have been actively creating their own sound, consists of a quick-witted lyricist and three gifted musicians, who are always ready to also improvise without a hesitation.
Despite his young age, Kraiden has already released two albums of material and the third effort is about to see the daylight anytime soon. So there's loads of material and the music speaks for itself. But are you ready for it?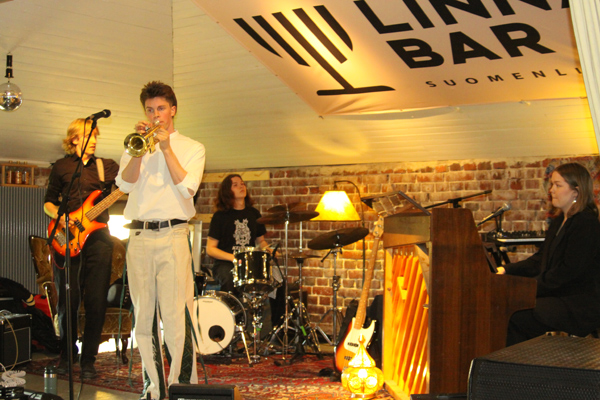 ---
Open Mic by Mimmit räppää
Showtimes: 15:45 hs & 17:30 hs (2 x 45 min) / Gorilla Stage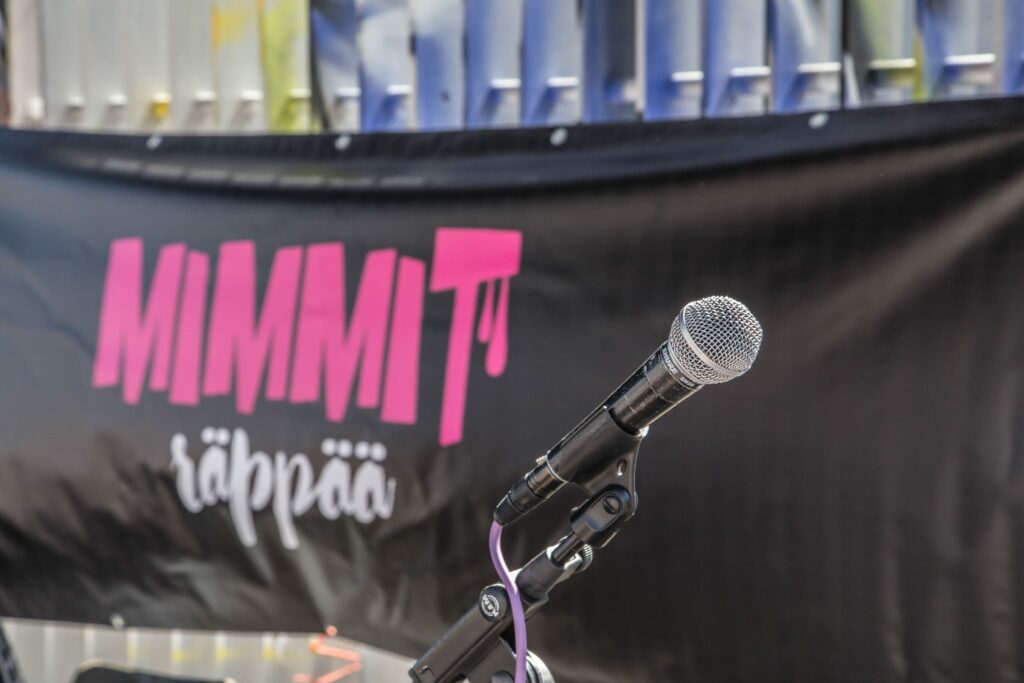 Mimmi räppää collective organizes an open mic sessions on the "third stage" of Elephantasy. Join in to perform your own songs or freestyle for a period of 10-15 minutes (max). You can either bring your own beats on a memory stick or just grab the mic, while DJ Lame plays the instrumentals. Registration on site! The open mic will be hosted by Bomstikidi and Yesicayou, both known from the Mimmit räppää collective.
—
Mimmit räppää is Finland's first rap event concept highlighting women in the subculture, which has been predominantly male. The aim is to open doors for women artists especially as well as make it possible for the beginners to get stage experience.
Mimmit ry is a non-profit association focusing on urban culture and empowering women to fulfill their dreams. The organization produces grassroots urban culture projects without an upper age limit. They are also well-known of their urban art concept Mimmit peinttaa, which similarily inspires and encourages girls and women in the subculture traditionally dominated by males.
---
Funky Amigos dj's with special guests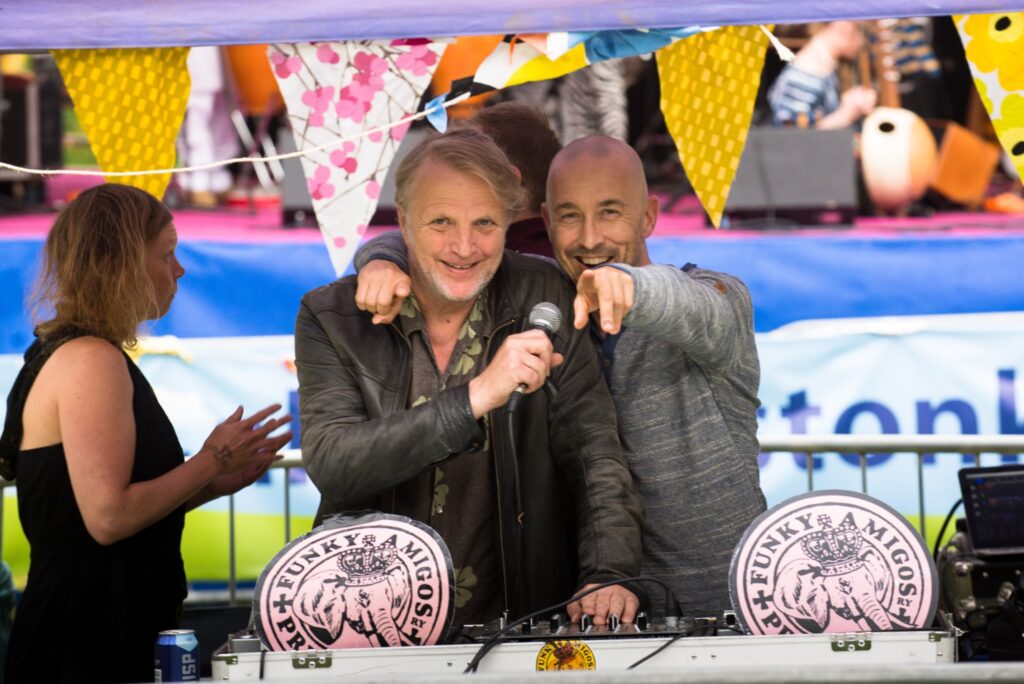 For the first hour of Elephantasy as well as between the live shows, the almighty Funky Amigos DJ's and their numerous special guests will be entertaining you with the grooviest tracks around! And for this time both around the main stage as well as in our brand new Sun Stage area! No breaks, no brakes.
Around the main stage, your ear candy will be provided by DJ's Borzin and dijcka, both well-known for decades in the local scene, along with DJ Jesper Aisti from Wibes Festival and Funky Amigos' own DJ SoulllJay, who will start the day. At the Sun Stage, the decks will be taken over by DJ's Positron, Funky Ville, Sonata & Jorge Rasta. Expect to hear a versatile selection of funky rhythm music from all around the world!
---
Circus Lounge
As before, Elephantasy audience will be entertained, inspired and entertained by Turku-based Circus Lounge artist collective. Not only with performances, as they will also conduct various workshops (more details closer to event). Expect various workshops for all ages, hilarious tug-of-war and acro yoga sessions. Join along!
The collective has charmed audience and earned a steady place in the Elephantasy programme for years along with their occasional world class guests. The group also actively runs the Circus Lounge art space in Turku, targeted to performing artists. This year's lineup includes circus artists, such as handbalancing and partner acrobatics expert Valo Kainulainen and juggler Heikki Tolin among others.
Read more about Circus Lounge (circuslounge.fi) >>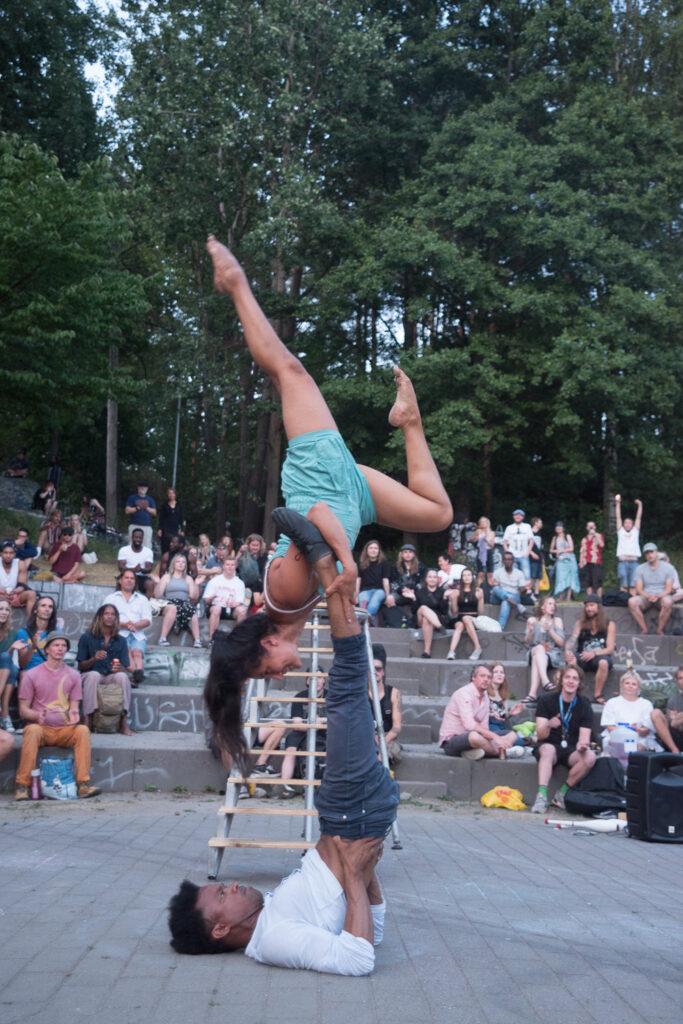 ---
Kids' area & Circus action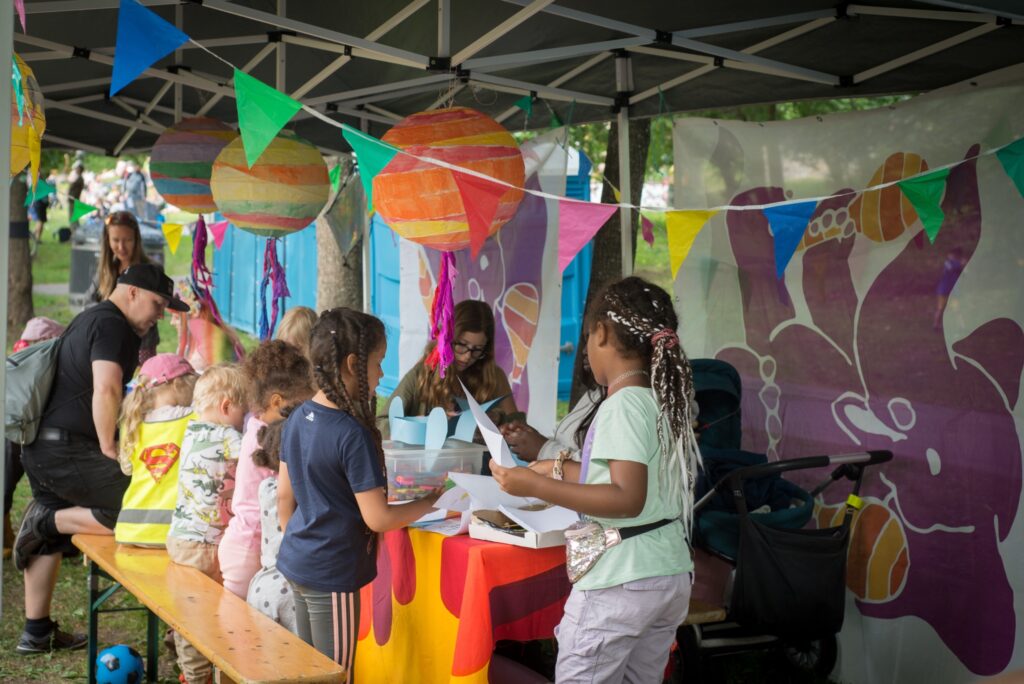 The Kids' Area of Elephantasy is the place to be for the smallest stompers offering activities and other interests! The programme, field games and all the fun will easily keep the youngest ones busy all the way until 7 pm. Because of the area dedicated solely to children (accompanied by an adult), Elephantasy has been favored by families for years!
While two circus performances will be held around the Elephant Stage, most of the shows and circus workshops will be conducted in the Kids' area, also for adults.
Timetable
14:00 hs – Giant soap bubbles with introduction
15:00 hs – Duo Momentum: circus show
15:15 hs – Family acrobatics (suitable for all ages, 30 min)
16:00 hs – Hand standing workshop (open level, 45 min)
17:00 hs – Circus Lounge Duo (show)
17:15 hs – Tug-of-war (suitable for all ages)
18:00 hs – Acro yoga for beginners (open level suitable for all ages)
19:00 hs – Open acro yoga jam for adults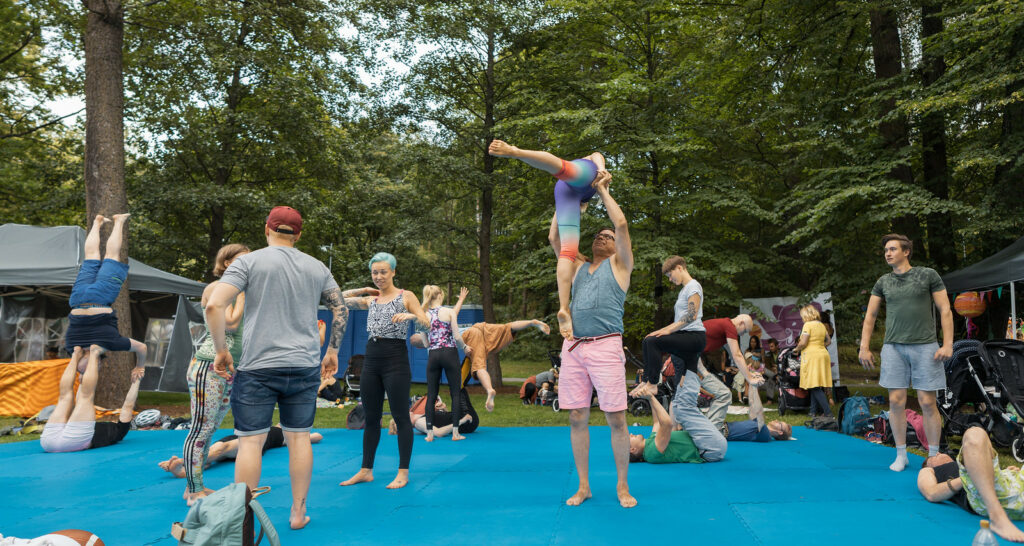 Circus workshops
The circus workshops conducted by Circus Lounge collective start easily by warming up and learning the basics but will eventually culminate into a collective physical final performance performed together. They are mainly suitable for all ages on the beginner level.
We guarantee that the tug-of-war, aimed at children and adults, will surely bring joy and laughter for both the participants and the audience!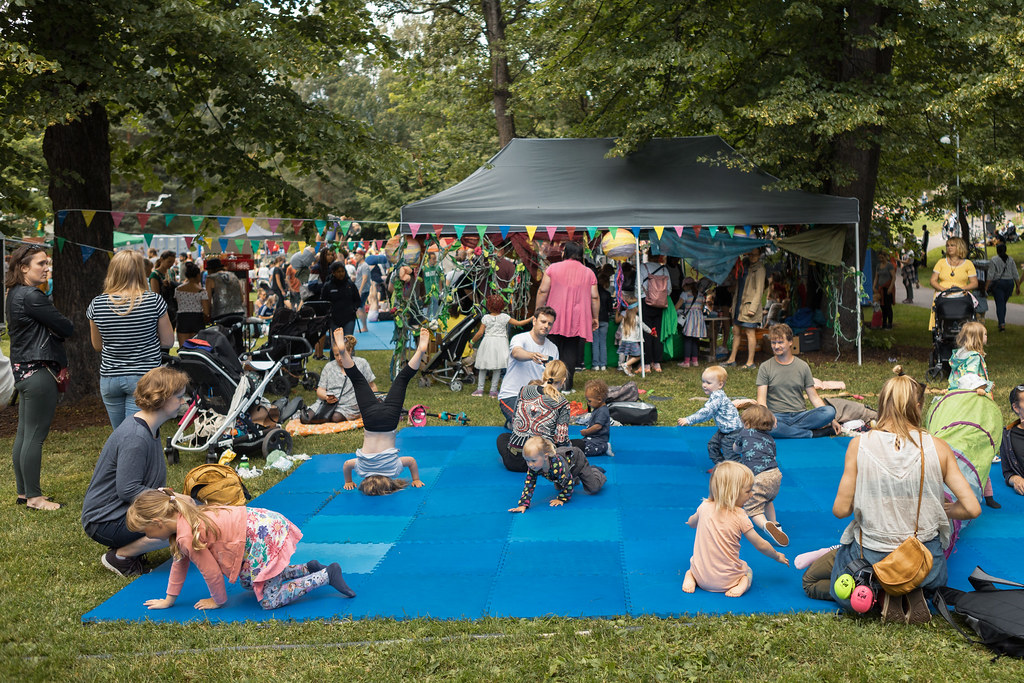 ---
Workshops: Sun Stage & Gorilla Stage area
Two fun and exciting workshops will be conducted in the new Sun Stage area behind the main stage! Around the Gorilla Stage area, you can learn about capoeira in a workshop or even join the roda later on!
Please prepare for all the workshops with light and relaxed clothing as well as a water bottle.
On the Sun Stage area there will also be a ping pong table (and paddles) available for playing! Please remember to take care that others have a chance to play as well, so you won't be reserving the table for too long.
Art workshop by Fabio Pires
15:00-16:30 hs / Sun Stage
Fabio Pires has worked actively for several years among urban and contemporary art. At Elephantasy, you will have the chance to participate in his graffiti workshop suitable for both adults and kids. Feel free to join anytime between 15:00 and 16:30 hs as long as there's still some paint left. 🙂 Fabio will be happy to help you and give advice, when needed. This has surely been one of the hits in recent years, so don't miss it!
You will find the workshop on the given time in the new Sun Stage area of Elephantasy.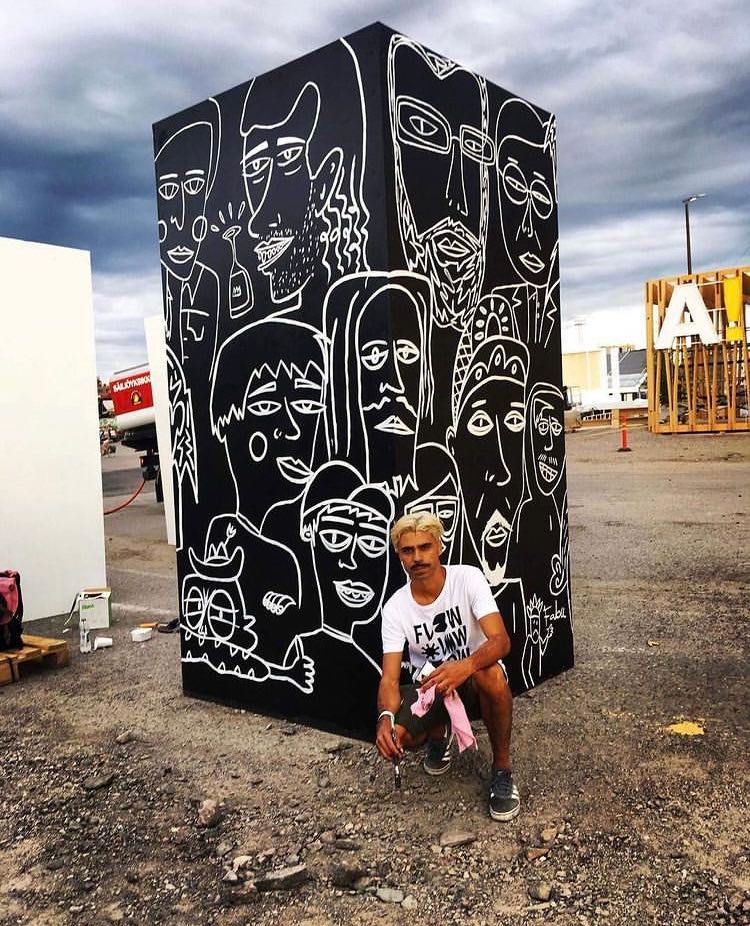 Art therapy workshop
16:45 hs / Sun Stage
For youth and adults, Tiina Nevanperä from Ateljee Mignon will be conducting a relaxing art therapy workshop with the theme "A peek into myself" starting at 16:45 hs. No earlier experience required, but make sure you will be there on time to join! During the session we will use water colours for painting provided, so just come and enjoy the moment. Duration: approx. 45 mins
The art therapy workshop will be held in the new Sun Stage area of Elephantasy.
Capoeira
16:30 hs workshop, 18:15 hs roda / Gorilla Stage
Mestre Pium (from Pés de Pincel crew) will conduct an open capoeira workshop at Elephantasy from 16:30 till 17:30 hs. Capoeira is a dance, a fight, a game and much more. It teaches you music, acrobatics, a new language (unless you're a native Portuguese speaker – in this case you miss that one out), history, and a whole new view on life.
At 18:15 hs you can also participate in an open roda, which is a ring for anybody already familiar with practicing capoeira to attend. You might also want to bring your own instrument along, even though some might be available on site, too. Join in or just come and feel the vibes!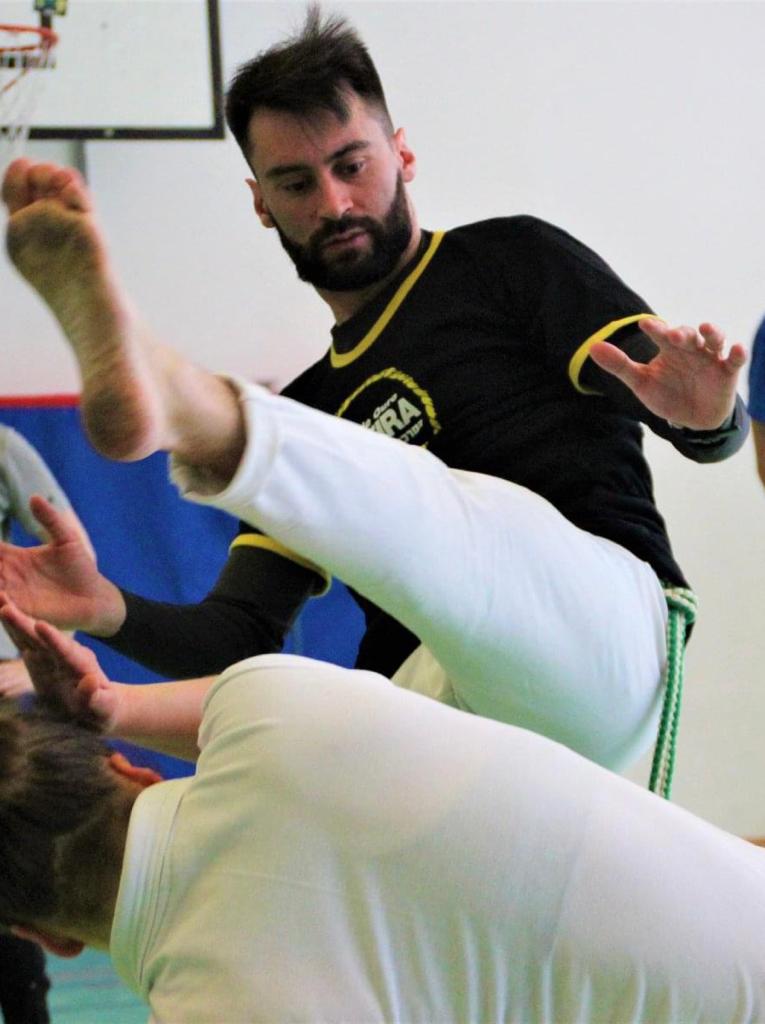 ---
Park bazaar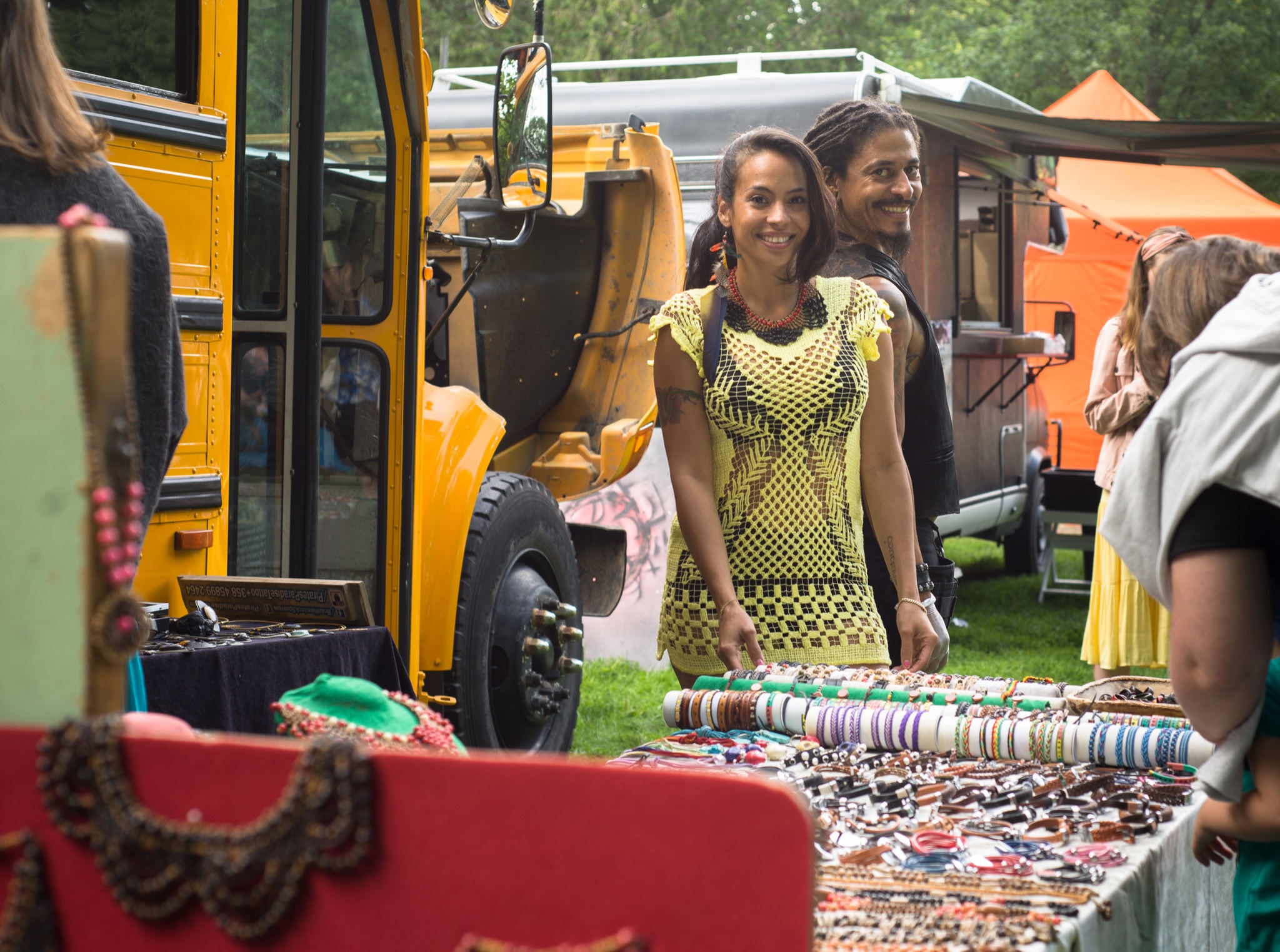 The lovely park bazaar of Elephantasy includes local vendors offering you lovely wardrobe and handcraft to browse through. Perfect memories to buy home!
You can find more info on the vendors and their products through the links below: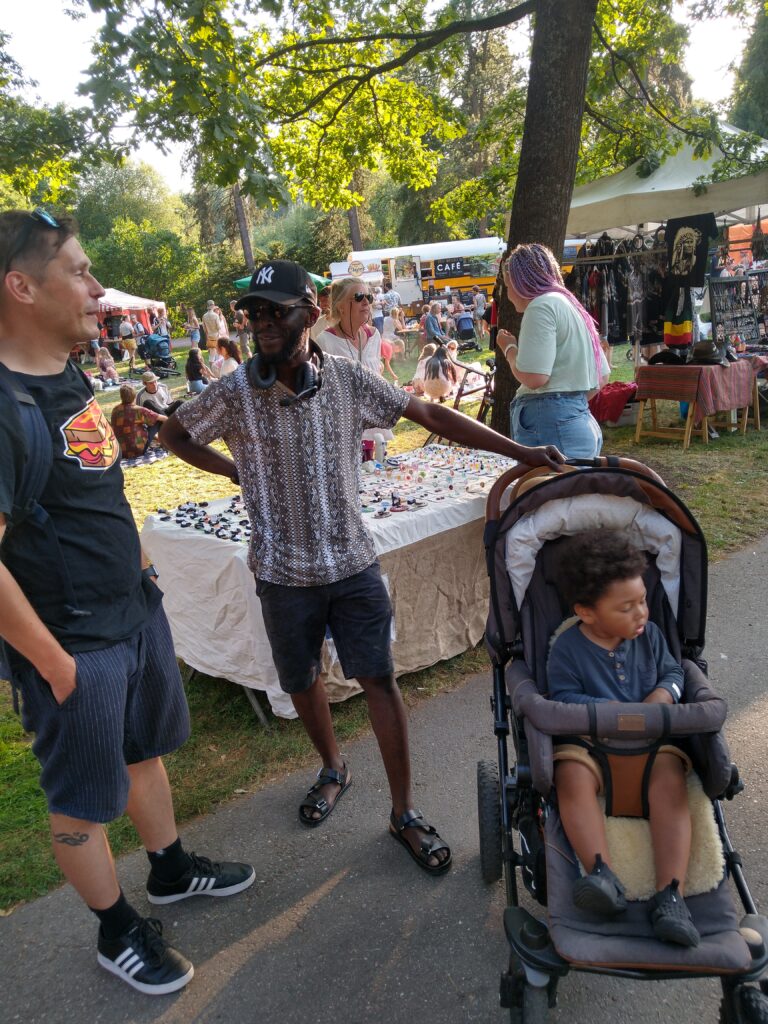 ---
United Gypsies Brewery Bar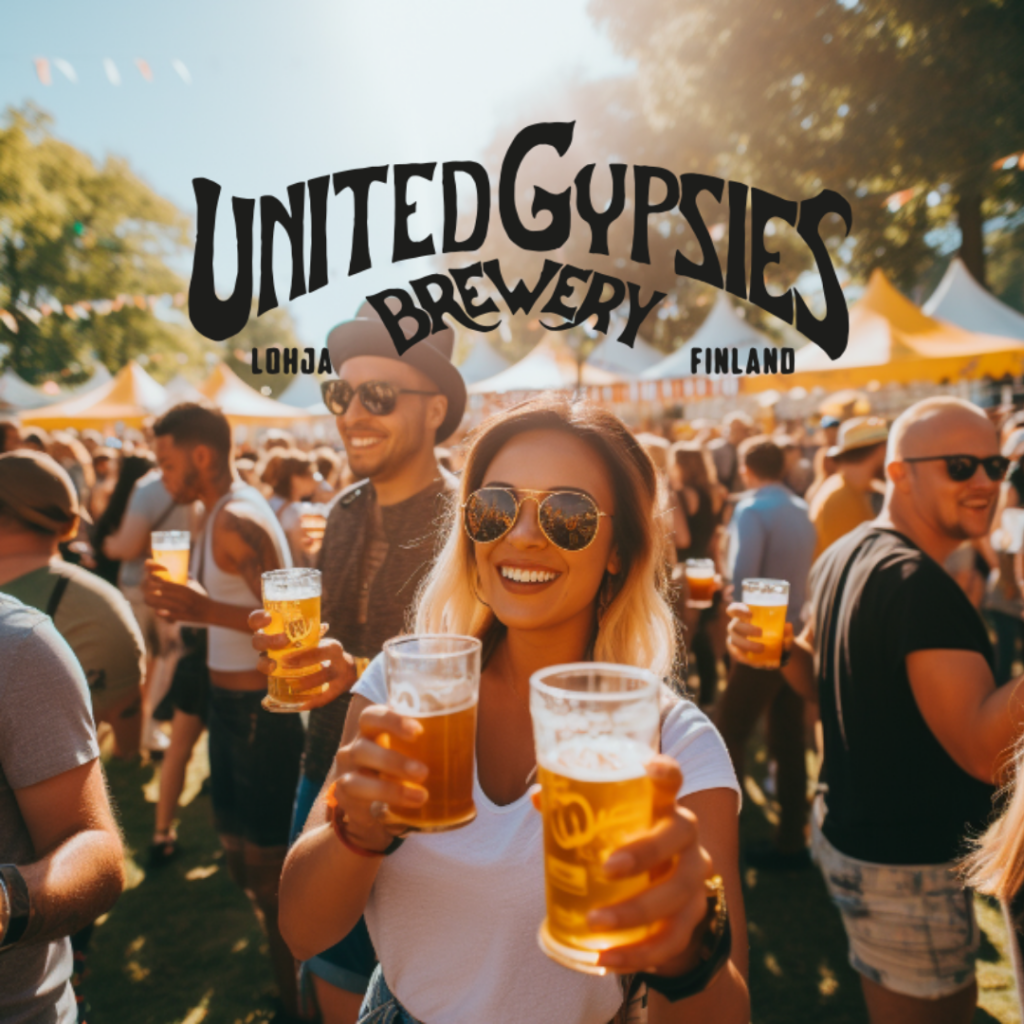 This year you can also taste and enjoy superb microbrewery products at the exclusive Elephantasy pop-up bar located in the park!
United Gypsies Brewery will make it there with their amazing selection of six tap beers. They are all made with love and passion in their respected brewery in Lohja. And each one of them has its own story to tell to everyone, who cares to listen.
Age limit inside the bar area.
---
World street food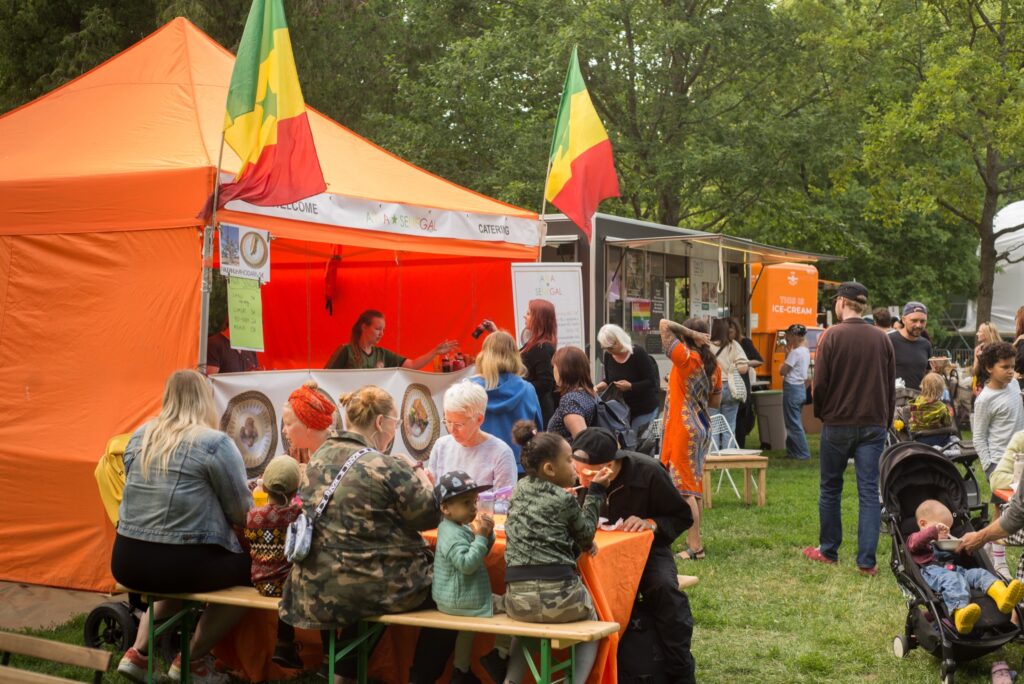 The food stalls of Elephantasy will serve you street food delicacies from different parts of the world, so you do not necessarily need to bring anything for the picnic at all! Except yourself.
Food & other treats
Food:
• Awa Senegal
• Nigerian Delicacy by Oby
• Sukhothai Thai Food
• Tacos los Burros de Helsinki
Other treats:
• Ape Gelato 
• Mo's Ice-Cream & Coffee Bar
• Pau Brazil 
• Stadin Nitro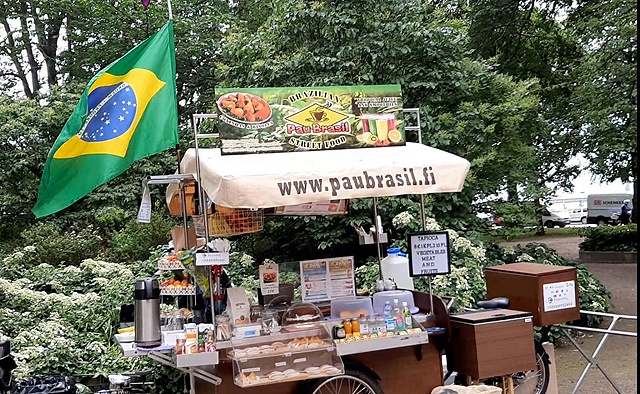 ---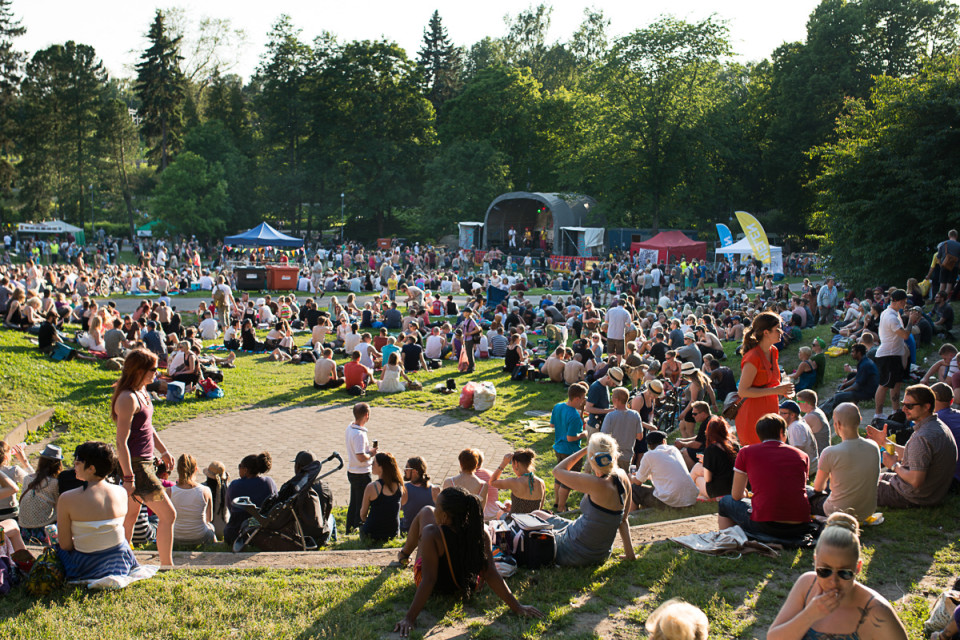 Arrival
Alppipuisto is located in Alppila district of Helsinki, next to the Linnanmäki amusement park, which is easily accessible from all directions and only 1,5 kilometers walk away from Pasila. We recommend arriving by walking, bike or public transportation with "Alppipuisto" defined as the destination. There are no parking lots available close to the park and the use of service vehicles is permitted only if scheduled in advance.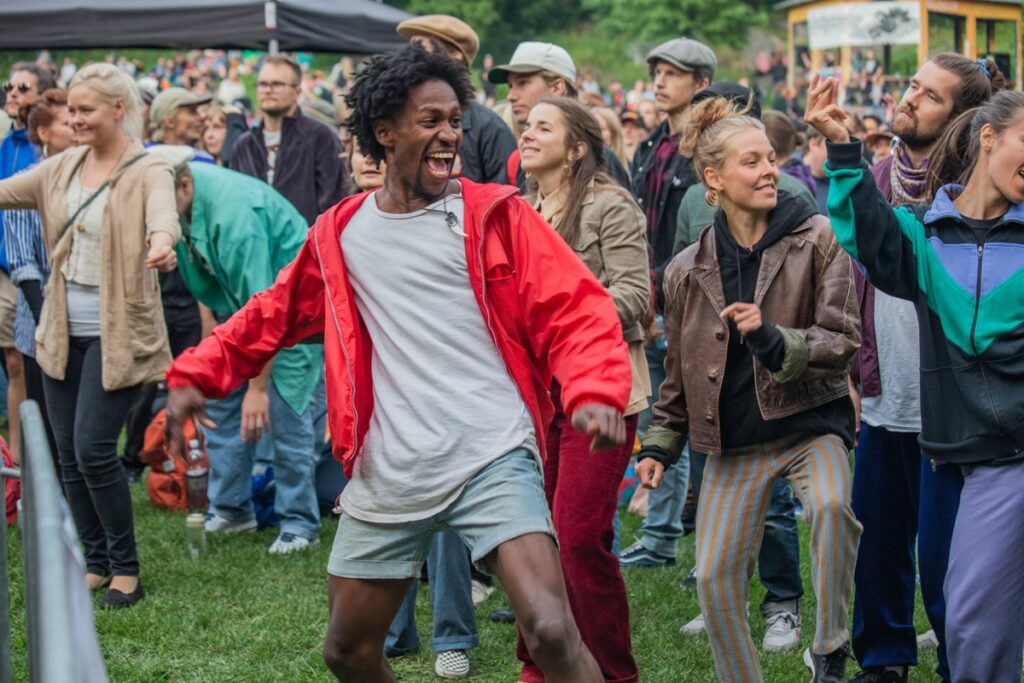 Keeping Alppipuisto tidy and beautiful, together!
Let's keep the park clean together, so we would truly appreciate if you won't leave any crap behind but take them to the bins in order to help us clean up the area after the event. Thank you so much! =) You can ask for plastic bags for your garbage at our Info desk. When each one of us does their part, it's a very small effort personally but so valuable in the bigger picture!
Please do not fill the trash bins in the area excessively, if you stay longer in the event or in the park! The birds will otherwise spread the dirt all over during the night. Let's make sure all together that the lovely Alppipuisto park will stay as the most idyllic park of Helsinki and we can organize events in the future there!
Children
Kids are always warmly welcomed at Elephantasy, where they and their parents will have an area of their own to enjoy with different activities! Please keep a close look after your children in the multitude in order to prevent getting lost. There are some dangerous areas in the park for wandering small kids. These include the pond (which is not a playground) and the cliffs above. In a critical situation, please contact the staff which you can always find at the Info tent.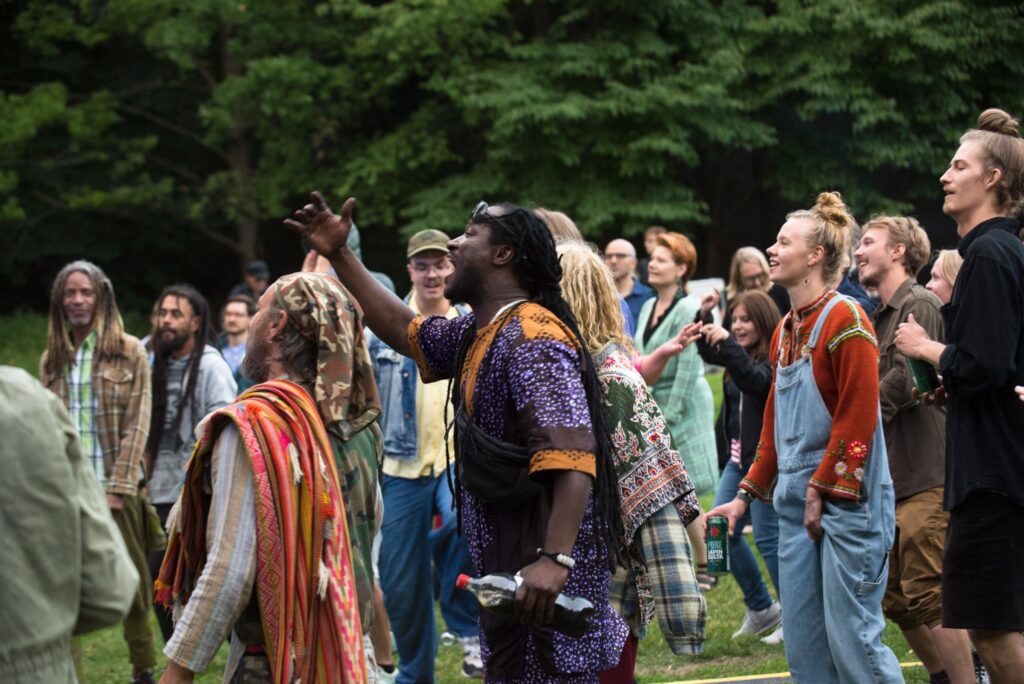 What to bring along?
You are allowed to bring your own picnic food and drinks, but it is also possible to buy world food treats from the vendors in the area.
Remember to drink enough water in the heat of the sun! We recommend you to bring at least a blanket and a water bottle, which can be filled in the area: either at the hydrant located behind the main stage or on one of the water points, where you can also wash your hands.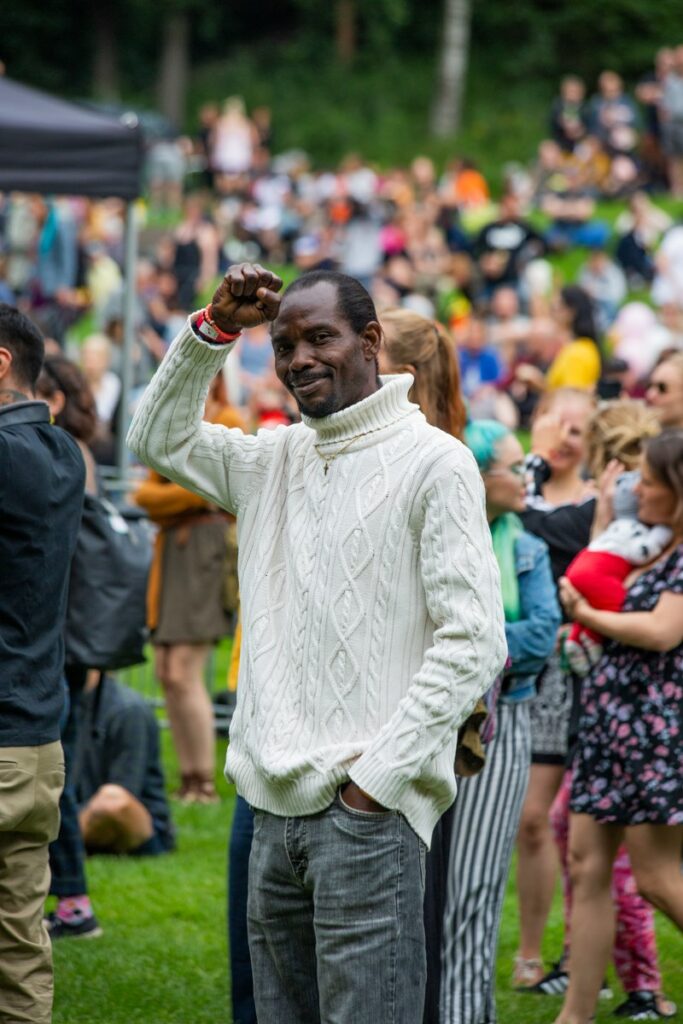 ---
Check video clip from the festival four years ago…
---
Contact info
Producer: Lilli Philip | lilli.philip [ät] gmail.com | p. +358 50 5715 125
Festival director: Sami Mannerheimo | sami [ät] funkyamigos.fi | p. +358 50 4400 209
Artistic directors: Joonas Kervinen, Sami Mannerheimo, Janski Arnimaa & Lilli Philip
Finnish & English texts: Joonas Kervinen | joonas [ät] funkyamigos.fi
Graphical design ('23): Tuukka Kangas
---
Elephantasy – Funky Family Picnic 2022 has been made possible with the funding from the City of Helsinki for the Alppipuiston kesä 2023 summer event series.

---