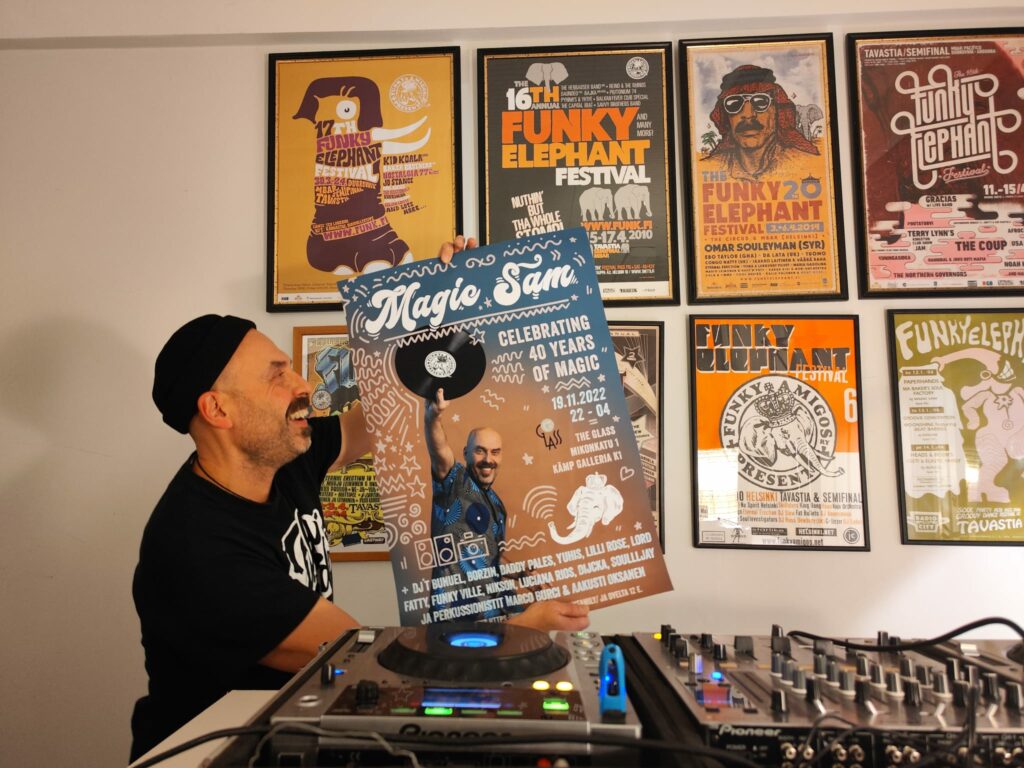 The founder and the chairman of Funky Amigos, Sami "Magic Sam" Mannerheimo, will be celebrating his career of 40 years with a special party and loads of top-notch deejays on Saturday the 19th of November at The Glass in Helsinki. Besides all his work among event and festival production, he has a long career as a photographer but also for decades as a professional deejay, which will be highlighted in the event.
The atmosphere of the evening will be lifted not only with the deejay set of Magic Sam, but also a line-up of front row dj's from the local rhythm music scene, including Bunuel, Borzin, Daddy Pales, Yuhis, Lilli Rose, Lord Fatty, Funky Ville, Nikson, Luciana Rios, Dijcka, SoulllJay and percussionists Marco Burci & Aakusti Oksanen.
The Glass as well as The Finnish Museum of Photography located in the ground floor of K1 Kämp Galleria will be transformed on 19th November into a full-scale night club with a PA system and lighting. You will be also treated with the visuals by the Kangastus collective. And on top of all this, you will get a chance to see the photo exhibition Wise and Sensitive, shot by Sami Mannerheimo on his visit to the Sheldrick Wildlife Trust nature reserve in Kenya and picturing the orphan elephants living there.
DJ Magic Sam, who played his first deejay set in 1982, has been one of the regulars in numerous hot night clubs of Helsinki from the legendary Nylon, Soda and Kerma all the way to the VR Warehouse, Tavastia, Teatteri and Grotesk during several decades. Many people also remember him from the clubs at Victor's in the 90's and from the fame of Clube Brasil in the 2000's. He has also warmed up for several world class acts from The Temptations to Brand New Heavies and George Clinton.
Welcome aboard to celebrate the magical work of Magic Sam on four decades in the Finnish rhythm music scene and behind the decks!
Saturday November 19th, 2022 at 22-04 hs @ The Glass, Mikonkatu 1 (Kämp Galleria K1)
tickets 10 € (advance): www.holvi.com/funkyfamily/
…and from the door: 12 €