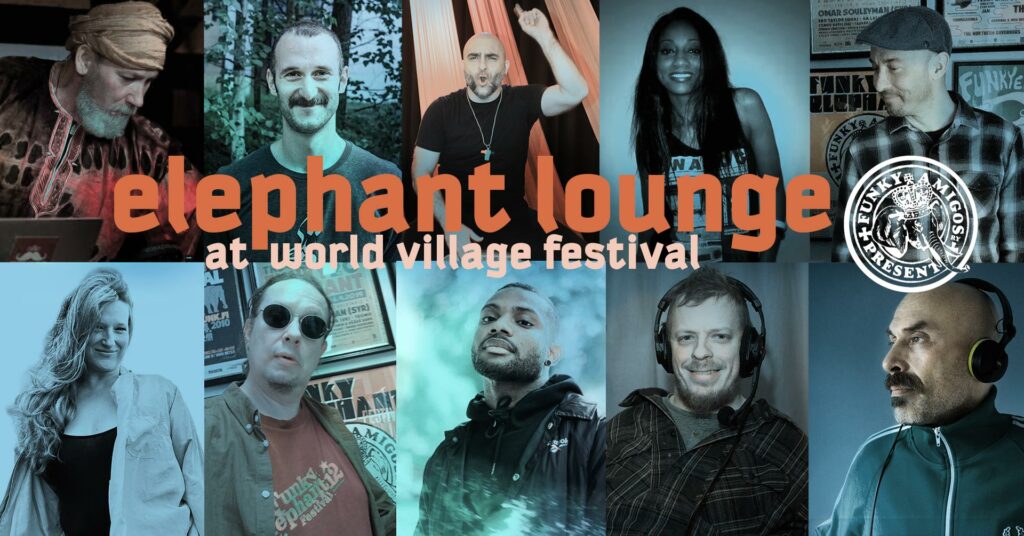 World Village Festival, which celebrates cultural diversity, is one of the highlights of spring and will be organized with a brand new concept in several locations in Helsinki in the end of May. Funky Amigos has participated in the production and arrangements of the festival several times during the years. This time we will be setting up the exclusive Elephant Lounge in Lämpiö in the premises of Tiivistämö venue in Suvilahti, where the factual programme of the festival takes place. It will guarantee maximum enjoyment for the people participating in the festival on both Saturday the 28th as well as Sunday the 29th of May.

During the weekend, Funky Amigos DJs will be entertaining and inspiring you with the grooviest tracks from around the planet. On Saturday, the DJ sets are handled by the elephant crew's own DJs Magic Sam, SoulllJay, Nikson and Janski, together with the Brazilian support by Luciana Rios. On Sunday, DJ Borzin (Balkan Fever) with Dr. Smeđi Šećer and percussionist Vladimir Kekez will start the day, which will be culminated in the hands of DJ Lilli Rose and her selections.
The Lämpiö lounge and the terrace are also where you can see a photography exhibition and enjoy drinks and food throughout the day. The Elephant Lounge will also feature rapper NaharY performing on Saturday at 19:00 hs. Earlier on Tiivistämö at 16:40 hs you can also see the Finnish spoken word performance by Laura Eklund Nhaga, Paleface and Hassan Maikalin. And as the icing on the cake, at 21:30 hs the eclectic Orkesta Mendoza from Arizona will take over the live stage with their amazing mixture of cumbia and other Latin sounds combined with various genres and styles.
Saturday 28th of May
12.00 – 14.00 DJ Janski
14.00 – 16.00 DJ Nikson
16.00 – 17.30 DJ Luciana Rios
17.30 – 19.00 DJ SoulllJay
19.00 – 19.45 NaharY (live)
19.45 – 21.30 DJ Magic Sam
Tiivistämö live:
16.40 hs Laura Eklund Nhaga, Paleface & Hassan Maikal: Rajat (spoken word show in Finnish)
21.30 hs Orkesta Mendoza (USA/MEX)
Sunday 29th of May
12.00 – 16.00 DJ Borzin (Balkan Fever), Dr. Smeđi Šećer, DJ Murat Ermutlu Davul & Vladimir Kekez
16.00 – 19.00 DJ Lilli Rose
Venue and time: Tiivistämö, Saturday 28th May from 12.00 to 21.30 and Sunday 29 May from 12.00 to 19.00
address: Kaasutehtaankatu 1, Helsinki (Suvilahti)
Do not miss the rest of the interesting programme on World Village Festival, including the impressive Ghanaian afrobeat band Santrofi as well as the enchanting gospel concert by soul singer Nicole Willis!
World Village Festival May 23rd – 29th, 2022:
www.maailmakylassa.fi