The urban free-entry festival Elephantasy – Funky Family Picnic was organized on Saturday, July 17th in 2021 as part of the Alppipuiston kesä summer event series.
For the 12th time in history, Elephantasy – Funky Family Picnic brought unique live shows, dance, workshops, world street food and a children's area with activities to the idyllic Alppipuisto park in Helsinki. The picnic-spirited event was succesfully organized with special Covid-19 arrangements and we received even more than normally positive feedback of the production as well as the artistic programme!

ELEPHANTASY – FUNKY FAMILY PICNIC 2021
SAT July 17th, 2021 @ Alppipuisto, Helsinki (address: Viipurinkatu–Tivolitie)
14-22 hs with Children's area open 14-19 hs
Free entry, no age limit! Accessible.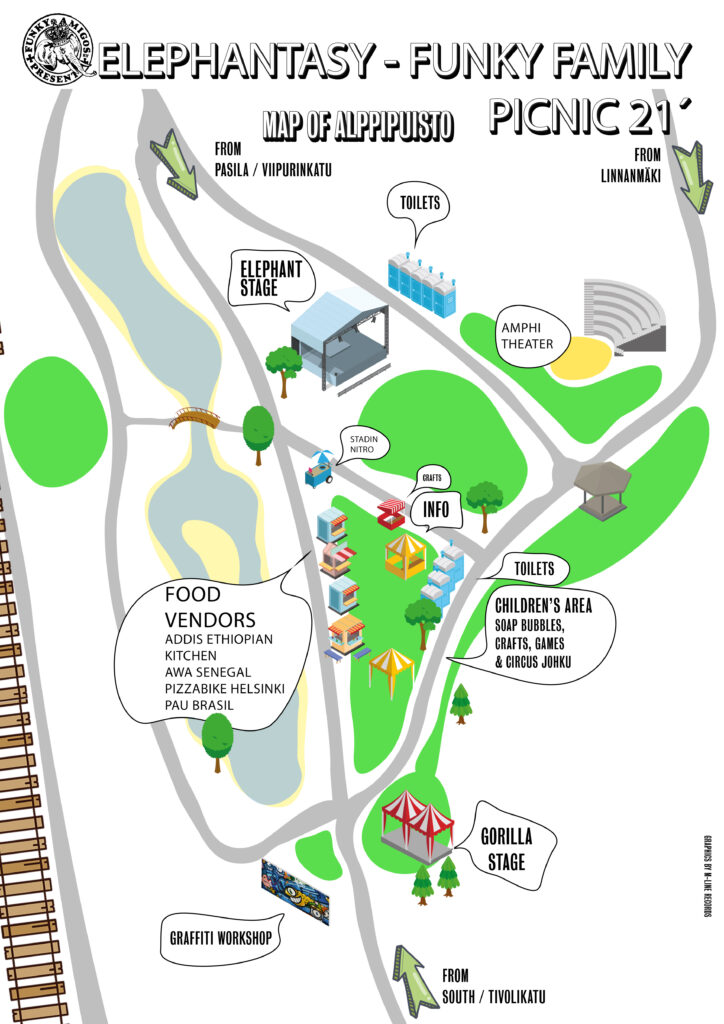 ---
Photos from the festival in July 2021:
---
Artists
Joonas Hauveli & Rytmi-Rengit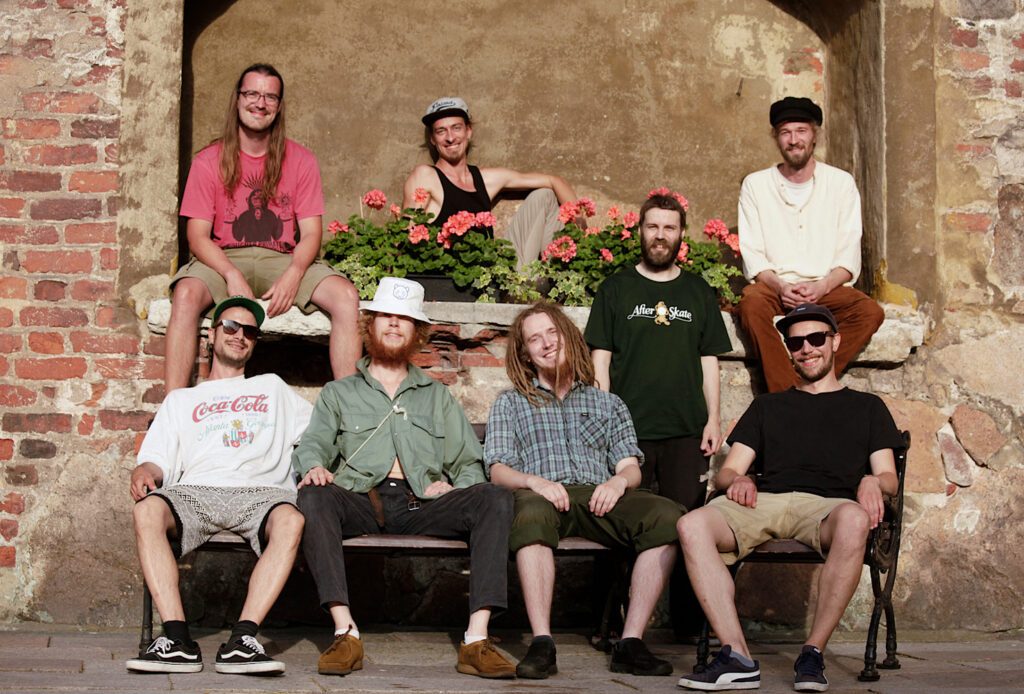 For years, it seemed that the local roots-spirited and conscious-minded Finreggae, which flourished around Millennium, collapsed (with a few exceptions) into a very marginal subculture after Jukka Poika step-by-step wanted to become a pop star . However, recent years have showed new signs of a lovely return, whether in the form of old pioneers such as Laulurastas, getting back to the front row or in the arrival of completely new artists.
One of the noteworthy, if not the most remarkable, new flag bearers is unquestionably singer and guitarist Joonas Hauveli, hailing nowadays from Lapland, and his Rytmi-Rengit orchestra based in Turku. The same band plays often as the outfit behind the reputed reggae musician Puppa J on his own shows, and actually it was him who immediately took Hauveli as his protege when they were both living in Turku. The anticipated, brilliant debut album Joonas Hauvelin laulukirja was published just before the summer, and Funky Amigos is now proud and happy to bring the hottest Finreggae artist in the scene to show his talents live on stage for the first time in Helsinki since the praised effort!
If you happened to enjoy especially the debut album Jokaiselle tulta of Soul Captain Band in 2001 as well as their production before that, it's nearly impossible you wouldn't fall in love with Joonas Hauveli. Roots reggae is powerfully present both in the groovy Finnish sound of Rytmi-Rengit as well as in the lyrics, where you will hear about topics such as charity, unity, equality and faith. So let Hauveli and his friends light up your inner flame, you won't regret it!
Text: Joonas Kervinen
Lineup:
Joonas Hauveli ‒ vocals & guitar | Oskari Vuorio ‒ saxophone | Jussi Hurskainen ‒ saxophone | Juhani Haapala ‒ guitar | Tuomas Varila ‒ guitar | Otto Huhtaniemi ‒ keyboards | Ilmari Vaarne ‒ percussions | Miika Hjorth ‒ bass & background vox | Roberto Lanz ‒ drums & background vox | Lotta Maija ‒ transverse flute & background vox | Henu Vilen ‒ harmonica
---
Mama Longhorn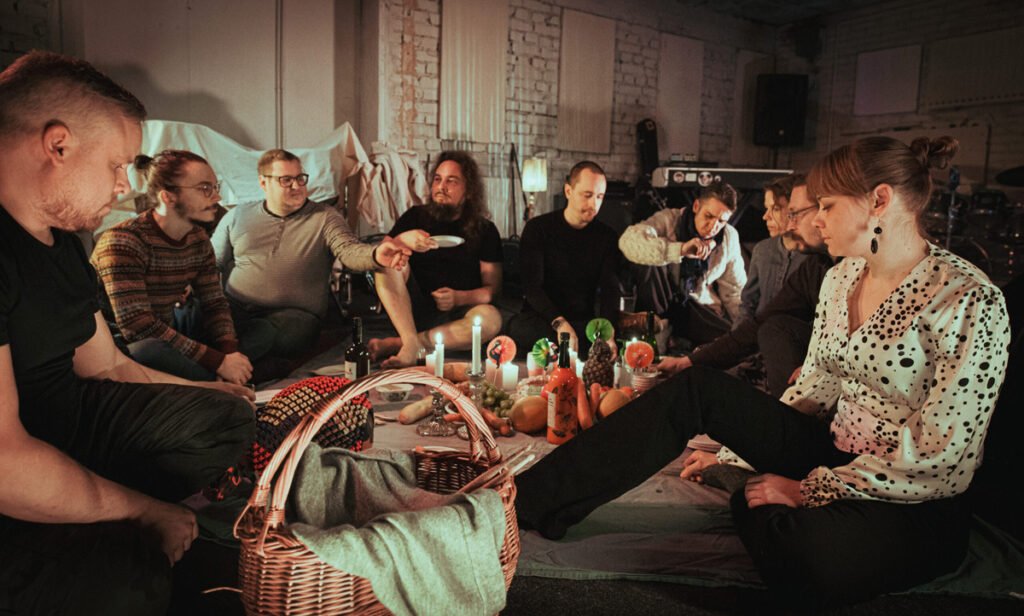 Mama Longhorn has mesmerized their listeners for the past decade with their vast blend of energetic rhythms, both live and on albums. With funk & afrobeat forming the basis of the sound, catchy melodies, free-form flow and psychedelic vibes are laid on top to form a unique sound.
The third album, Let It Run, was released in early 2021, and with it they have developed their expression deeper into the varied moods between the different tunes. At the same time you could say that they have decisively found their own authentic trademark sound, which would never come from anywhere else but from Finland as well as more precisely from Pori, which has always been full of progressive bands! The singer Eeva Poijärvi does not try to imitate anybody but instead leaves a lot of room for her own personality and background in a brave way. The musical experience and diversity of other Mama Longhorn members only emphasizes the eclectism with different kind of influences.
Today Mama Longhorn delves into the versatile atmospheres of their songs stronger than ever. Hints of pop and the avant garde are transcending the music into even more intriguing places and spaces. Let It Run has created a lot of praise, and was selected as Album of the week by Radio Helsinki, upon release. In the summery Alppipuisto park Mama Longhorn will be serving a spicy musical delish to the epicures of groovy organic rhythm music!
Lineup:
Eeva Poijärvi – vocals & percussions | Tuomas Grönlund – guitar| Valtteri Mäkitalo – guitar | Mikko Elo – bass | Kai Johansson – keys & percussions | Saija Santavirta – clarinet | Jukka Kettula – saxophone | Juho Nordman – trumpet, French horn | Tatu Tyykilä – congas & percussions | Janne Huhtala – drums & percussions
---
Dub Vallila
Eight men strong Dub Vallila plays roots-spirited modern and eclectic dub reggae at its best. While the band was already founded in 2015, their discography still consists of a few dazzling 7'' singles released by Helmi Levyt and their debut album is scheduled to be released in the autumn. However, besides this they have caused quite a buzz in the underground for years already even without a single live show under their belt until this.
What makes all this more understandable is that Dub Vallila's musicians are closely related to several renowned reggae, ska, jazz and other rhythm music outfits across the country. The cooks of this funky soup include virtuosos like prime mover and composer of the orchestra, trombonist Jussi Vuorinen (Laulurastas), music mogul and drummer Arwi Lind (Laulurastas, Muuan Mies, Joose Keskitalo & Maailmanpalo, Puppa J & Tasottavat…) as well as dub wizard Mikko "Studiored" Rossi (Suhinators, Jukka Poika, Raappana, Banda Madrugada…) And you can definitely hear how they shine!
At Elephantasy we will be hearing Dub Vallila's very first live show, which many have been expecting for long. You might still well remember how the legendary Mad Professor sounded in Alppipuisto in 2009. This summer the valley will be filled up with the dubs from Vallila in at least as delicious way. Even their single "Jungle Walk" drew the original inspiration from the lovely park of Alppipuisto!
Text: Joonas Kervinen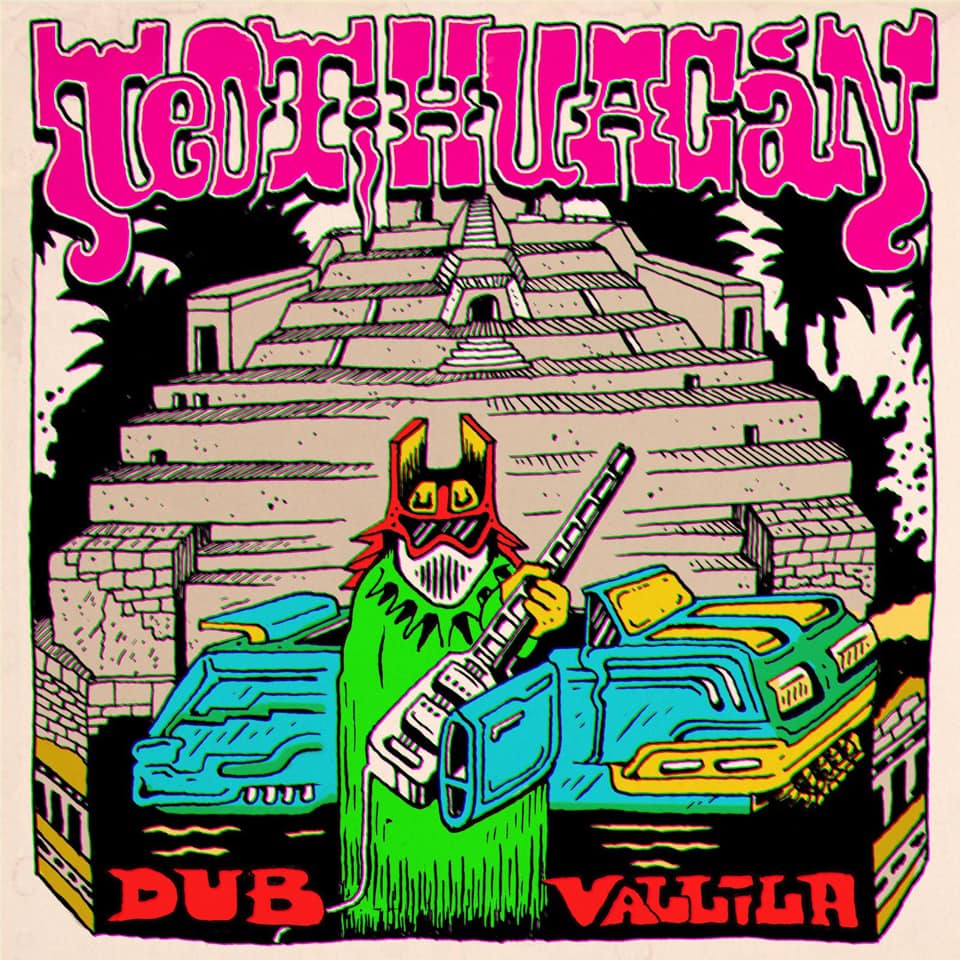 ---
Maarika & The Frocodiles (FIN/SEN/XĪN/GRE)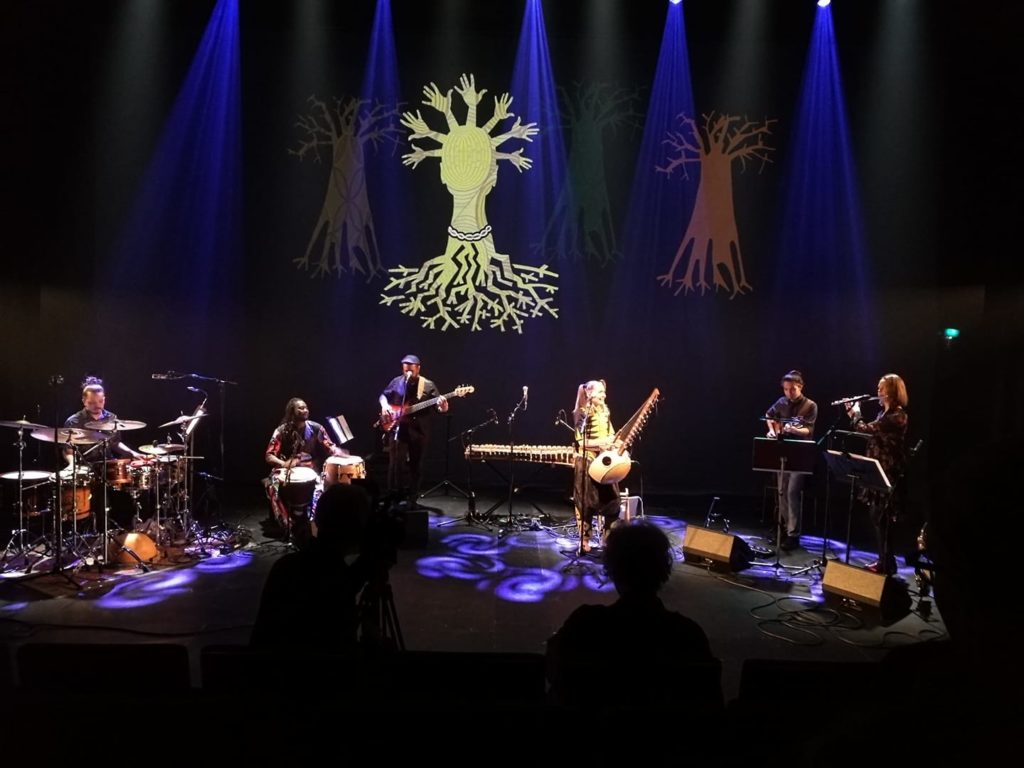 Drawing from Western African musical traditions, Maarika & The Frocodiles bursts fluent acoustic virtuosity and fascinating melodic stories all the way from Sahara to the arctic North. The group is led by world musician Maarika Autio, who herself sings as well as plays balafon and kora, and accompanied with musicians from different sides of the world. On Elephantasy's main stage they will be celebrating the release of their new album Tree Dimensional Tunes, released in June, so prepare for a very special treat already in the first hours of the event!
Listening to their songs, you may learn mandinka, miss the lost souls, respect a stubborn ram as well as sympathize how Maarika sings about the mother floating away behind the curtain of oblivion. African polyrhythmics, sweet sound of kora and the strong Northern influences create together a hypnotic soundscape and in perfect harmony with the atmospheric Alppipuisto. The narrator of their songs is the talkative balafon: in mandinka 'bala' means tree and 'fo' refers to speaking.
Visit also:
Official artist website >>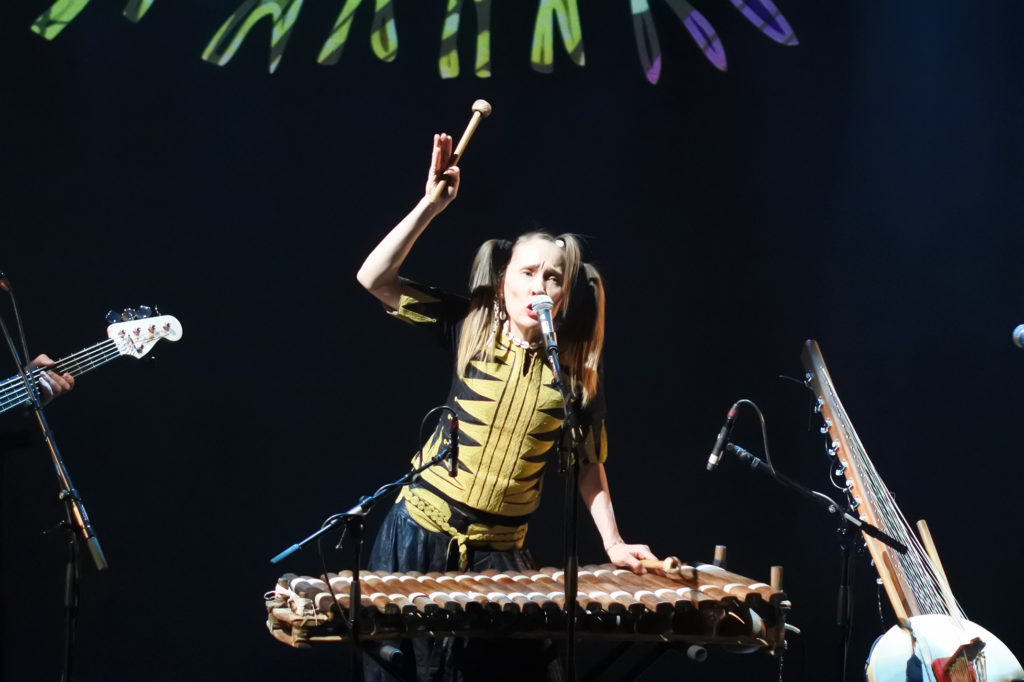 ---
Pirata Boing Band (URY/FIN)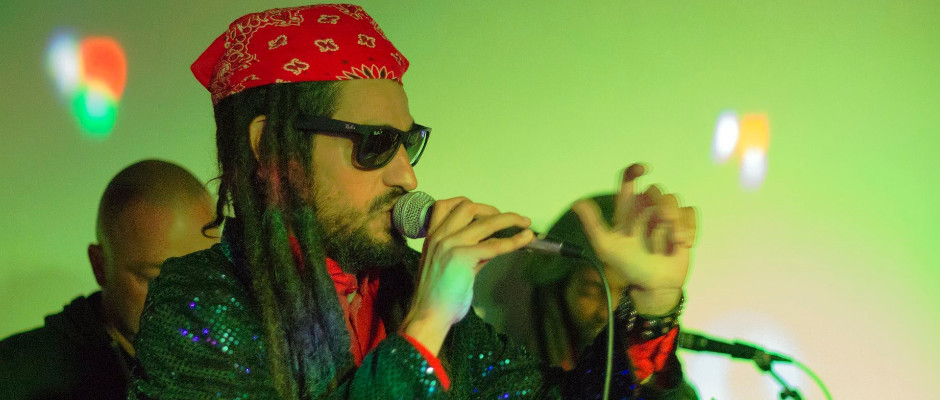 Uruguay-born Rodrigo Pereda is an active music man, who has been running his own Pirata Boing online radio for more than 15 years, collaborates regularly with international artists all over and normally tours around Europe and South America performing as a deejay and a musician. Pirata Boing Band is one of his main projects, fusing latin reggae and dub into both modern and traditional genres such as ska, cumbia, candombe, folk and hiphop ‒ smoothly and in balance.
Pereda has lived in several different countries during his life and you can easily hear that in the eclectic sound of Pirata Boing Band. They have also been extremely active during the COVID-19 pandemic, when there were no chances to perform. In 2020 they released not only their debut album but also separate live and dub versions of it. And if that wasn't already enough, Rodrigo "Pirata Boing" Pereda also collaborated for an album with his other group, Tampere-based Jahm N Band and is currently preparing both solo material as well as new songs for Pirata Boing Band.
However, most of all these guys have been waiting for is to perform live in front of an audience. And at Elephantasy it's finally about to happen!
Text: Joonas Kervinen
Visit also:
Official artist website >>
---
Paradox Box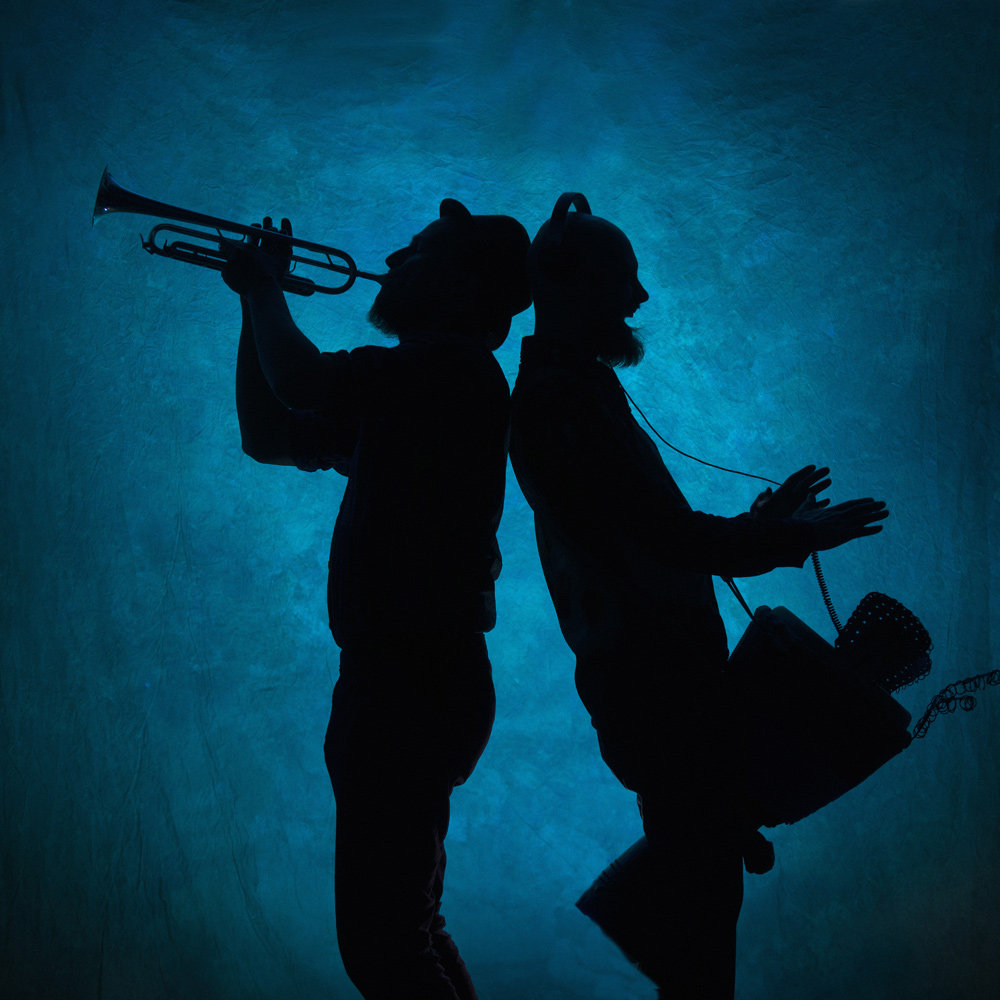 Trumpetist Eero Savela and percussionist Aakusti Oksanen form together the duo Paradox Box. The concept is to draw inspiration from free jazz, rhythm music and Western African polyrhythmics in order to create an auditive playground, where nobody necessarily knows what's going to happen next. The aim is to create enjoyable rhythms waves and inspire the listeners with insightful improvisations. Happiness is the driver.
The sound of Paradox Box is created with both traditional and DIY instruments as well as through the full scale digital manipulation of the audio and by adding electronic effects, which is all done live, raw and spontaneously. The result sounds down-to-earth but at the same time reaching out to new dimensions.
At Elephantasy you will have the opportunity to hear the new material at its freshest from the upcoming Paradox Box album Hyperfocus, scheduled to be released in fall.
---
Tomi Olavi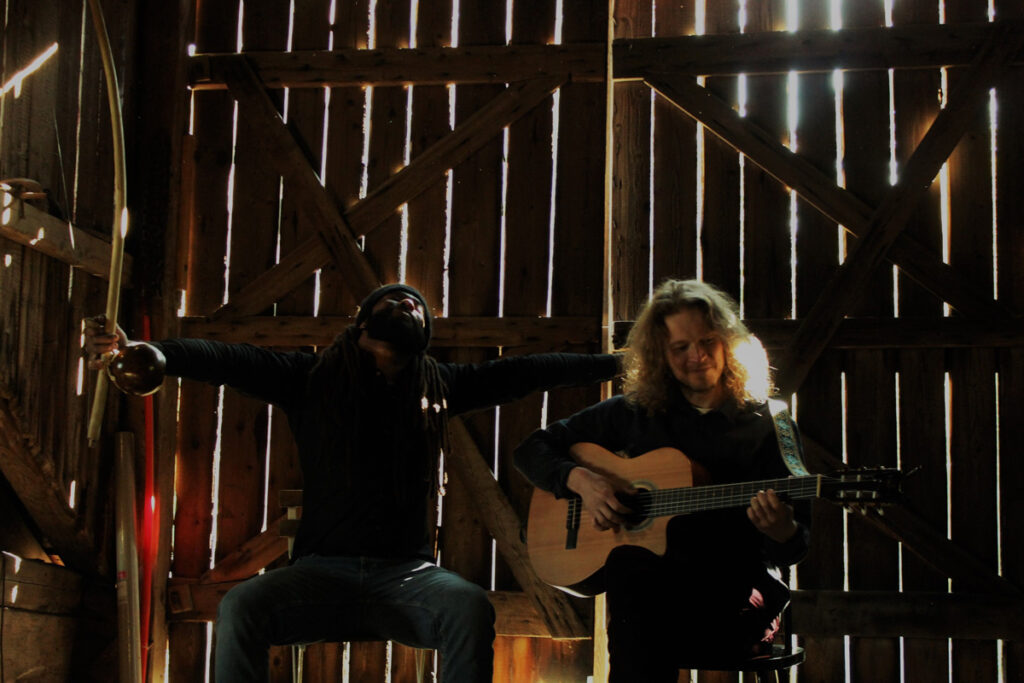 Helsinki-based musician and producer Tomi Olavi arranges traditional Capoeira tunes and writes new musical worlds around them. While the live set consisting of Olavi's acoustic guitar and Christian Pereira's berimbau might be instrumentally plain, it is also a very rousing and intimate experience showcasing beautifully the Afrobrazilian music form they represent. So what more would you need?
Tomi Olavi's debut album Helsinki – Florianópolis was released on the World Day for Cultural Diversity for Dialogue and Development on May 21st, 2021. Besides acoustic guitar and berimbau, the album combined also the Finnish 5-string kantele. Two singles "Ai, Ai, Ai, Ai, São Bento Me Chama" and "A Hora É Essa", which preceded it, gained also airplay on radiowaves.
Acknowledged Bom Cabelo will conduct and run a capoeira roda circle, a mixture of martial art and dance, right after the Tomi Olavi live show has finished on Gorilla Stage (the smaller stage) around 16:45 hs. It is open to all enthusiastics familiar with the concept! Feel free to bring your own instrument, although there will be some to used for playing on site as well. Or just come and feel the vibe!
---
Circus Johku with José Valencia (COL)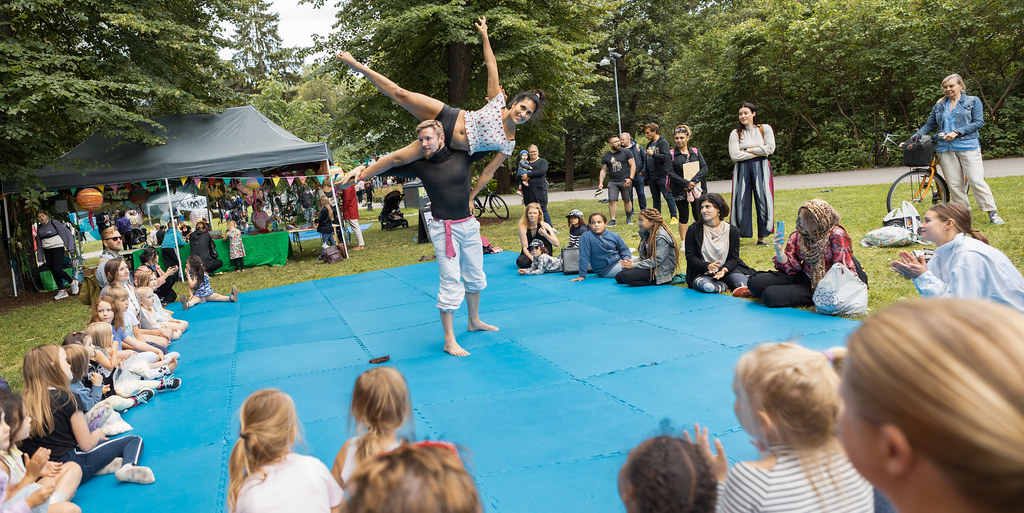 As always, Elephantasy audience will be entertained, taught and inspired by Turku-based Circus. This time she comes along with the Colombian world-class trapeze artist José Valencia, who focuses on Washington trapeze styled headstand and handstand performances.
Besides a performance of their own you can also enjoy the acrobatic workshop for kids as well as the handstand crash course ‒ or the acroyoga workshop for both beginners and a bit more experienced participants.
Unfortunately and most likely the giant soap bubbles, a true hit among the youngest every year, will not be seen this time after all. We apologize the earlier incorrect information on this!
---
Funky Amigos dj's

For the first hour of Elephantasy as well as between the live shows, when nobody is live on stage, the almighty Funky Amigos DJ's will be entertaining you with the grooviest tracks around! You might had enjoyed them earlier on many other parties as well as on the weekly black rhythm music special programme Elefanttiradio on Radio Majava.
---
Children's Area & Workshops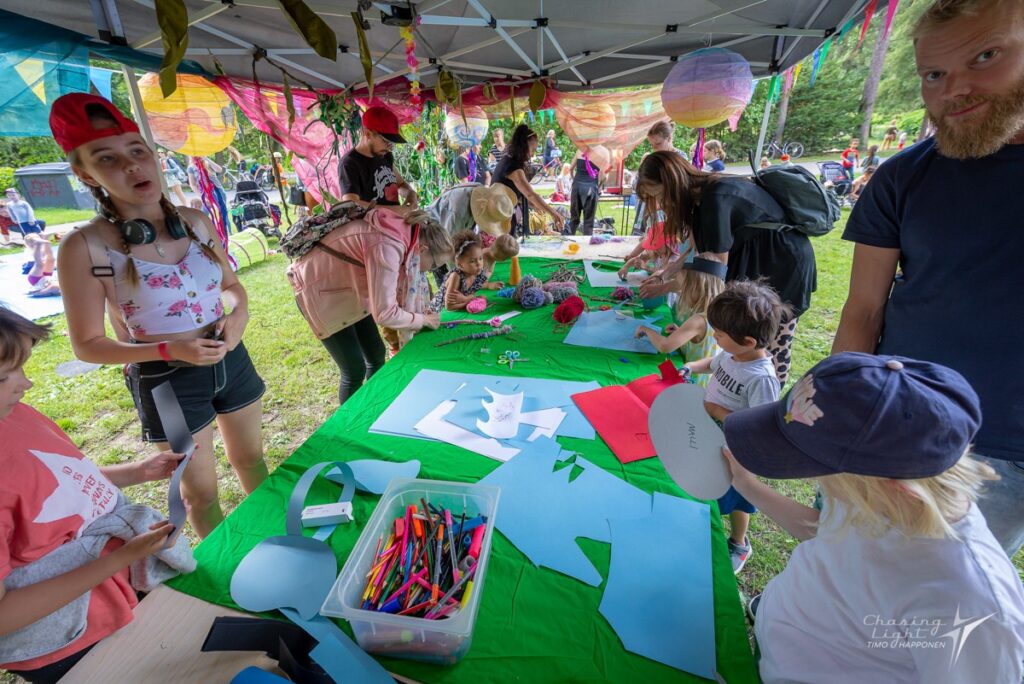 The Children's Area of Elephantasy is the place to be for the smallest stompers offering activities and other interests! The programme, field games and all the fun will easily keep the youngest ones busy all the way until early evening (around 7 pm). Because of the area dedicated solely to children (accompanied by an adult), Elephantasy has been favored by families for years!
All the workshops for adults are organized in the same area of the park, because many of these can be attended also by kids and youth!
TIMETABLE FOR CHILDREN'S AREA & WORKSHOPS:
14:30-15:00 hs Acrobatic workshop for kids
15:00 hs Circus performance (Circus Johku Company)
15:00-18:00 hs Flaum1's graffiti workshop: stencil painting and basics of graffiti with spray paints
15:30 hs Handstanding workshop, open level: advanced group for adults (José Valencia), beginners' group for adults and children (Circus Johku)
16:00 hs Circus performance (Circus Johku Company)
16:30-17:30 hs Acro yoga basic level, suitable also for kids!
around 16:45 hs Open capoeira roda park circle around Gorilla Stage (Bom Cabelo)
17:30 hs Acro yoga for advanced
18:30 hs Circus performance (José Valencia) (PLEASE NOTE! On Elephantasy Main Stage!)
21:45 hs Circus Johku final show (PLEASE NOTE! At the amphitheater of Alppipuisto park)
WORKSHOPS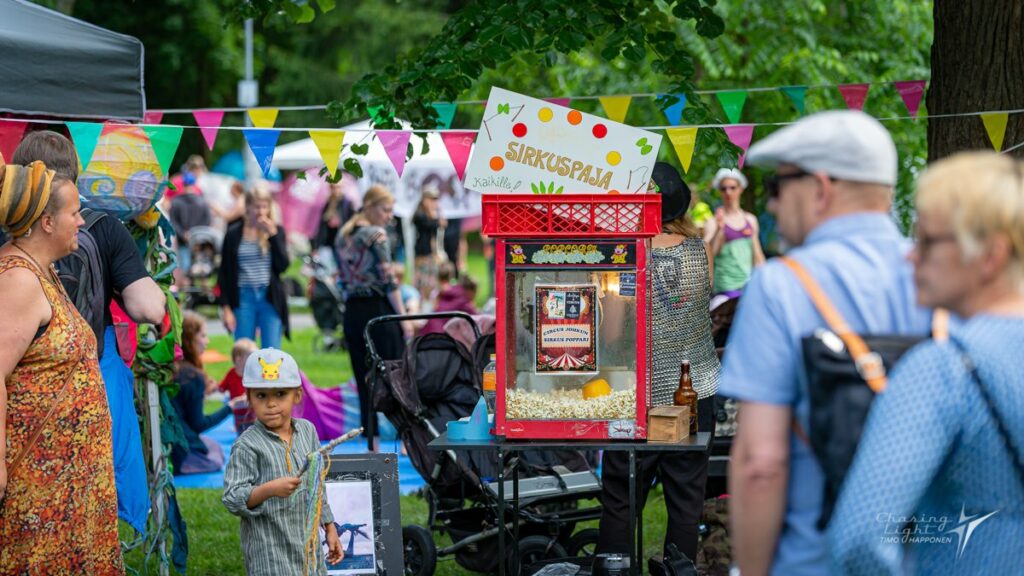 Acrobatic workshop for kids
Conducted by Circus Johku, the circus workshop starts easily by warming up and learning the basics of acrobatics but will eventually culminate into the collective physical final performance performed together. Johanna kellomäki has graduated as a dancer in 2007 and as a circus artist 2009. Thus she has been performing and guiding people into the secrets of circus for several years all around the world.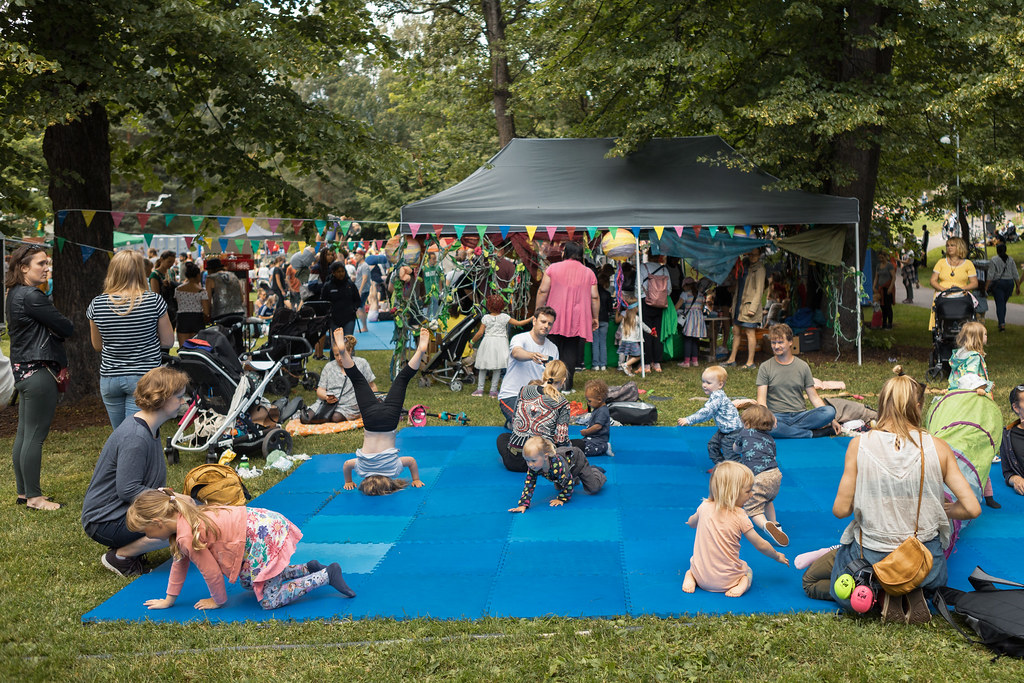 Flaum1's graffiti workshop
Have you always wanted to test your skills as a street artist? Now is the opportunity by partipating in the graffiti workshop conducted by Flaum1! It's suitable for nearly all ages and offers a chance to learn stenciö painting and the basics of graffiti with spray paints! The workshop runs nonstop for the whole three hours between 3 and 6 pm.


Handstanding workshop
Talented and internationally acknowledged Colombian trapeze artist José Valencia leads the workshop, where you have the chance to develop your handstanding skills efficiently in a short time. The crash course is suitable for both beginners as well as more experienced participants, since the practices are adapted in order to meet your individual skill level!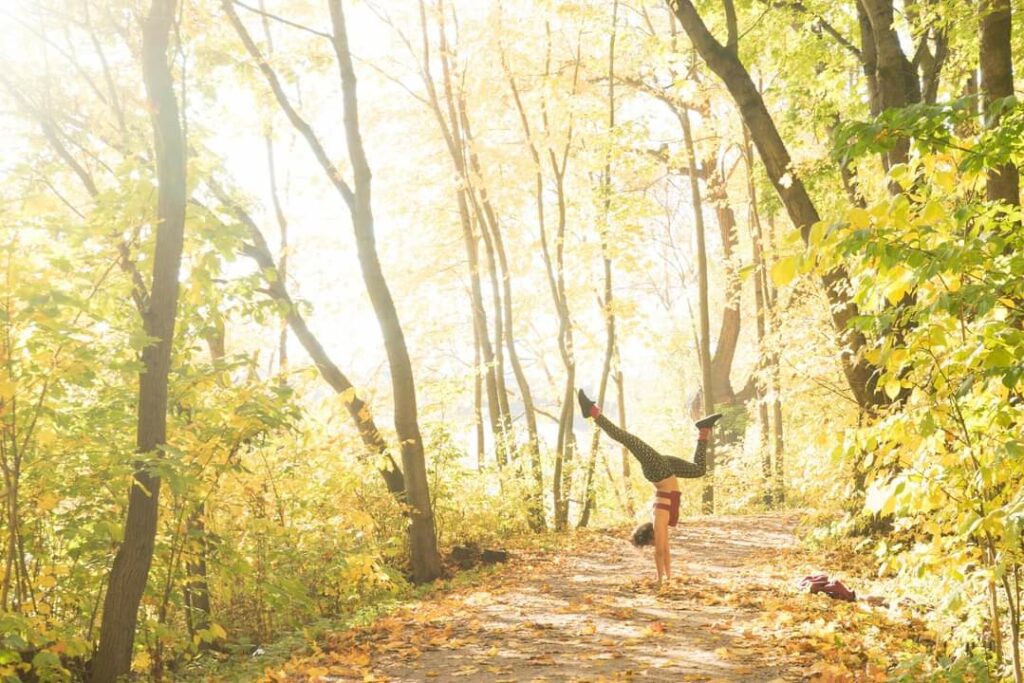 Acroyoga workshop
Circus artist Johanna "Johku" Kellomäki is always happy to introduce you to the basics of acroyoga! You can choose from the basic course for beginners and the follow-up course for more experienced yoga-enthusiastics.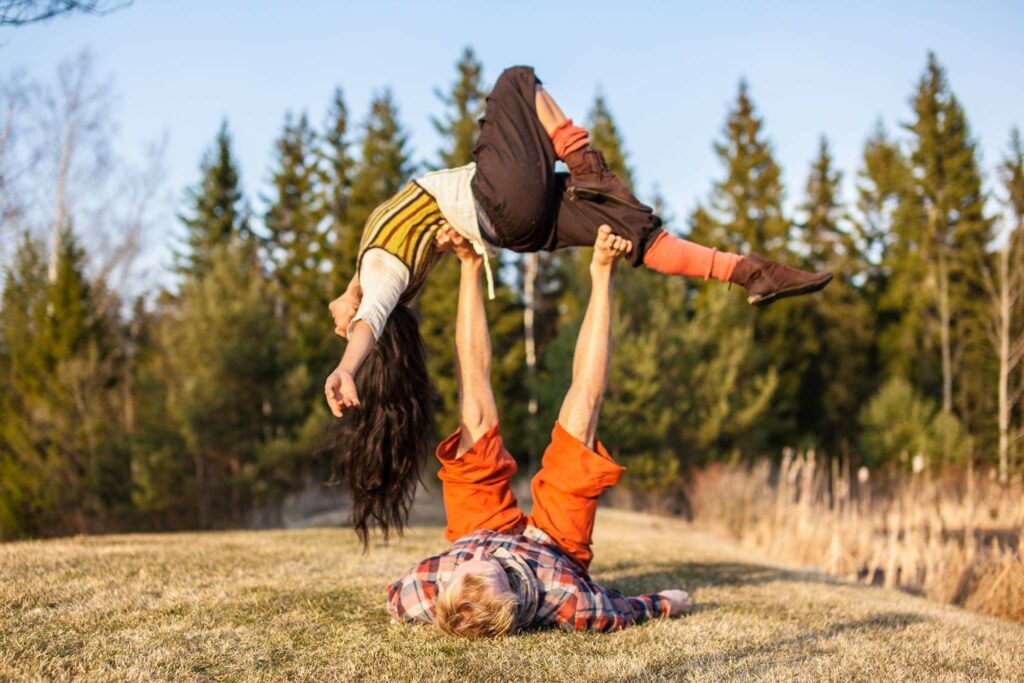 Please prepare for all the workshops with light and relaxed clothing as well as a water bottle. Please also bear in mind and follow the current Covid-19 restrictions and recommendations!
---
World street food
The food stalls of Elephantasy will serve you street food delicacies from different parts of the world, so you do not necessarily need to bring anything for the picnic at all! Except yourself.
Food
Addis Ethiopian Kitchen
Delicious injera breads topped with either meat or lentils (vegan) are the pride of Ethiopian culinary!
Awa Senegal
Traditional (also gluten-free!) Western African delicacies come with either chicken or as a vegan version and guaranteed to satisfy!
Just Vege
The tastiest falafels and other vegetarian delicacies from Middle-East and the Mediterranean will treat your senses big time!
–>
PizzaBike Helsinki
Vegan sourdough pizzas from a compact mobile pizza oven, mad delicious!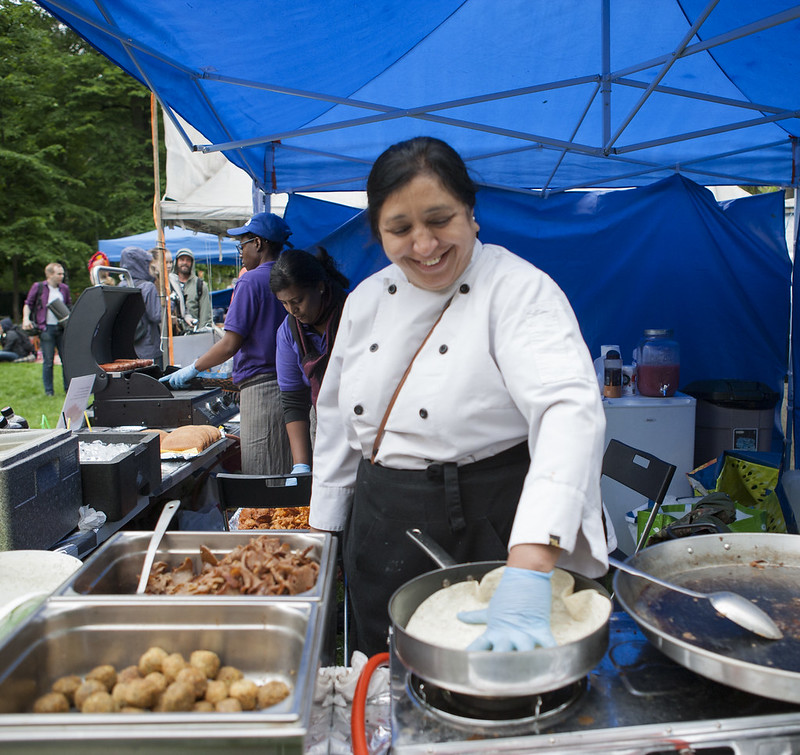 Other treats
Pau Brasil
Tropical drinks and cafeteria sweets for full enjoyment.
Stadin Nitro
Cold-brewed special coffee and tea for either refreshment or relaxation.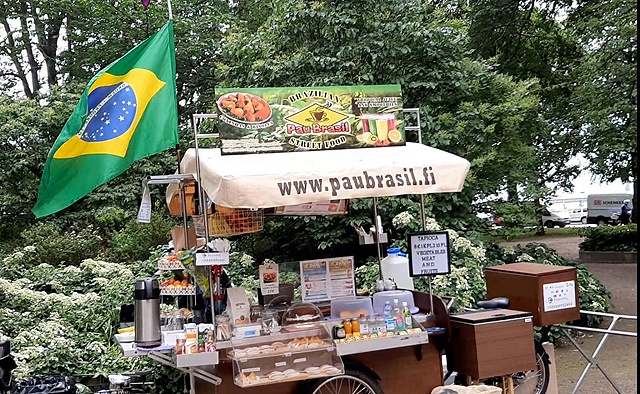 ---
Contact info
Producer: Sami Mannerheimo | sami [ät] funkyamigos.fi | tel. +358 50 4400 209
(Maria Smura) | on sick leave
Artistic directors: Joonas Kervinen, Sami Mannerheimo, Janski Arnimaa & Ville Hollanti
Finnish & English texts: Joonas Kervinen | joonas [ät] funkyamigos.fi
Graphical design ('21): Baris Varhos
---
Elephantasy – Funky Family Picnic 2021 has been made possible with the funding from the City of Helsinki for the Alppipuiston kesä 2020 summer event series.

---