The diversity in us
Puhos Loves People is a diverse cultural event targeted to the whole family and organized in the old Puotinharjun Puhos outdoor shopping center of Itäkeskus in the eastside of Helsinki. The entry is free of charge and the event is open to everyone. Puhos Loves People brings together musical and cultural programme as well as food from the community of Puhos as well as different organizations and groups operating in the eastern district of the city. No alcohol or other intoxicants.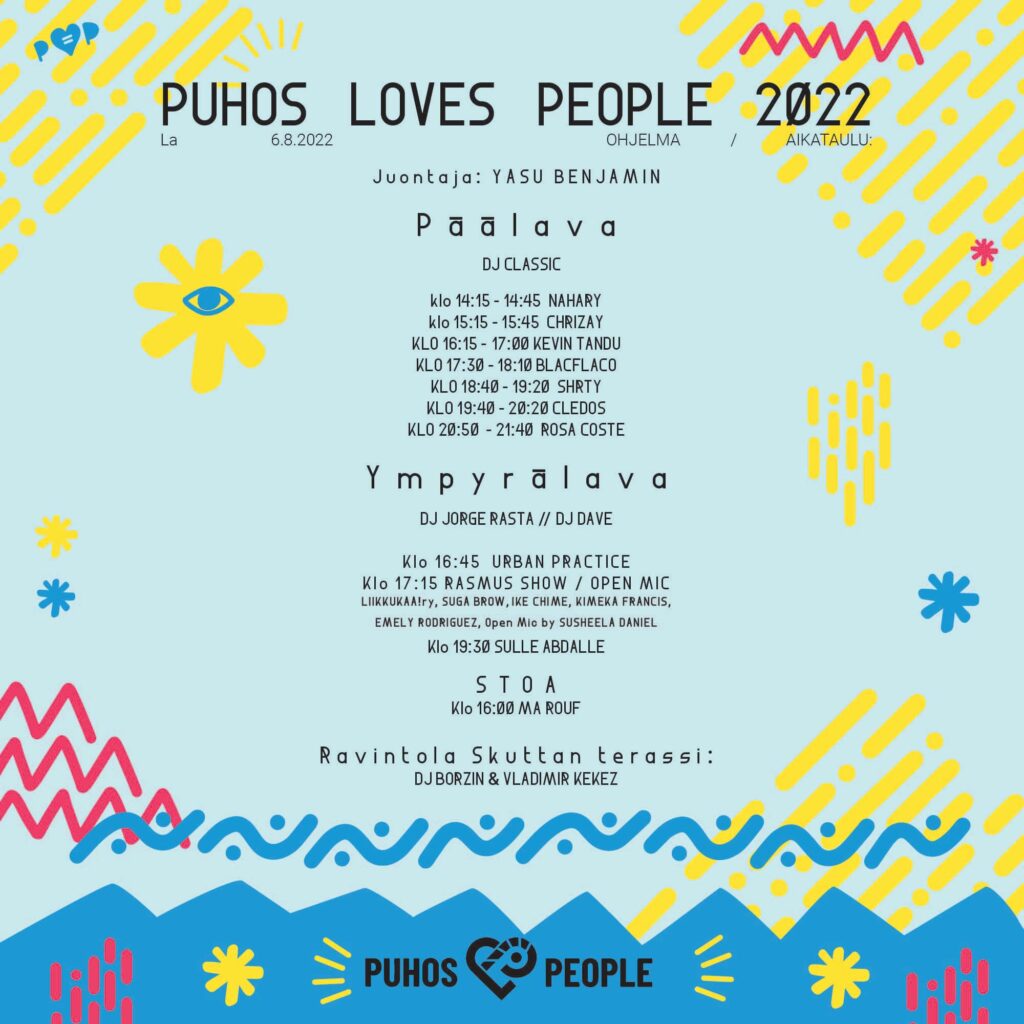 FESTIVAL in 2022
Puhos Loves People takes place again on Saturday the 6th of August, 2022 and means so much for the community and generally to the eastern district of Helsinki! Programme, scheduled from early afternoon till the evening, highlights the most fascinating phenomenon, music, culture and arts of different languages groups residing in Helsinki. No matter, if you are young or old, you can also participate in several workshops organized around art, culture and sports. The location itself is also unique as it is both rough and rugged but also romantically urban milieu where Puhos Loves People takes place. The aim of the festival is to introduce the independently grown and formed culture of Puhos as well as to increase peaceful and positive interaction between different groups in the area.
The main focus of this year's festival will be in the trap, hip hop and r&b music that is very popular among the youth today but also more and more often produced and performed by new Finns with ethnically diverse family background. That will include artists, such as Cledos, SHRTY, Blacflaco, Kevin Tandu, Chrizay and Rovaniemi-bred Rosa Coste, who all have a strong fanbase today. You will also be able to enjoy the Angolese-born rapper NaharY, who is already familiar from previous Funky Amigos events, as well as the Rasmus Collective (Suga Brown, Kimeka Francis, Ike Chime ja Emely Rodriguez) who are full of fantastic energy on stage!
It's not all about that still as there is actually more programme this year than ever before. And that includes for example the fascinating live show by Finnish-Kurdish sufi jazz project MA Rouf, the special set in Ravintola Skutta by DJ Borzin and percussionist Vladimir Kekez hailing from the popular Balkan Fever club and the Somalian pop star Sulle Abdalla.
Puotinharjun Puhos is located next to the Itäkeskus Shopping Centre in the street address Korsholmantie 2. It is easy and fluent to arrive by public transportation, but there is also a parking lot for car with limited space.
COVID-19 safety
We follow the instructions of the authorities to protect the festival participants health. The event area is open, so keep your distance to fellow participants. If you think you have any symptoms of COVID-19 infection or you have been in contact with someone diagnosed with the virus, stay at home. The festival is mostly organized outdoors.
BACKGROUND
Puhos is one of the most active multicultural hotspots of Helsinki with different ethnolinguistic groups and its own diverse community of people, companies and mosques. It is an area, which has been developed spontaneously by the people operating inside Puhos, and it is gathering a wide range of people from different ethnical backgrounds.
Funky Amigos has been actively involved in the production and planning of the Puhos Loves People festival in 2018 and 2019. The event is a joint production between several parties. The year 2020 festival was canceled due to the Covid-19 pandemic, but last year the event was held succesfully in autumn.